Jul 2, 2021
We had a great time in Invercargill last month for the 2021 Deer Industry Conference. It was fantastic to catch up in person at the great facilities of the Bill Richardson Transport World.
CONFERENCE PROCEEDINGS
Recordings of the conference are now available to view online, both in video and audio format. Head to deernz.org/2021-deer-industry-conference-proceedings for both the videos and podcasts or for just the videos, head to our YouTube channel >>
A selection of the keynote addresses:
In defense of Meat - Dr Jacqueline Rowarth >>
Rural and NZ Financial Outlook - Blake Holgate >>
Safe people. Safe farms - Tony Watson >>
The Hon Damien O'Connor - Minister of Agriculture >>
Deer Industry 2020-21: State of the Nation - Innes Moffat >>
CONGRATUATIONS TO OUR AWARD WINNERS!
Deer Industry Award - John Tacon
Matuschka Award - Ian and Dianne Bristow
Biennial Deer Industry Environment Awards
2021 Elworthy Award, the premier environmental accolade for deer farmers, sponsored by Dr Gyong Jai Lee - Grant and Sally Charteris, Forest Road Farm, Central Hawkes Bay.
New Award also sponsored by Dr Lee as the Dr Gyong Jai Lee Award - Grant and Sally Charteris, Forest Road Farm, for 'leading, environmentally sustainable, velvet farming'.
Duncan New Zealand Award - John and Mel Somerville, Arawata Deer Farm, 'for forward thinking and innovative farm practices while operating their business within a demanding environment'.
Gallagher Technology and Innovation Award - Mike Ferrier, manager, Three Rivers Ag, (owners: William and Karen Oliver), 'for utilisation of farming technologies to improve productivity and manage resources'.
First Light Foods Award - Tim Bowron, manager and Chris Smith, deer manager of Pamu's Goudies Station, 'for total commitment to farming sustainably with a strong customer focus.'
NZ Landcare Trust Award - Andrew and Pam Peters, Balquhidder, 'for excellence in sustainable deer farming through action on the ground'.
NZDFA Next Generation Award - Sophie Atkinson, Wharerata Farm (owner: Heather Atkinson Family Trust), 'for outstanding performance across environmental, financial and social aspects of the business'.
MSD ANIMAL HEALTH DEER INDUSTRY PHOTO COMPETITION
To view the gallery of winners, click here >>
1st place: Ian Buunk - Who's the boss
2nd place: Jessica McKenzie - Boys at play
3rd place: Richard Hilson - Scratch that itch
People's Choice: Mia Birt - Steamy weaners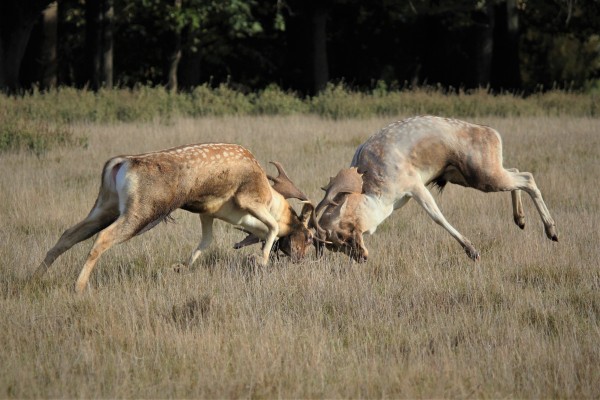 Winner: Ian Buunk - Who's the boss
DIDN'T ATTEND CONFERENCE? WE'D LIKE TO HEAR WHY!
We're keen to get an understanding of why you didn't attend conference in person. It's really important for the organisers to know why you didn't attend in person. We need to know if our programme missed the mark and what it would take to get you along in the future. Please head to surveymonkey.com/r/ZTTJQ3G to fill in a short survey. Those that fill in the survey will go in the draw to win registration to next years conference.
Back to Industry News