Find out about the media and communications the Deer Industry produces.
Deer Industry News is the official magazine of Deer Industry New Zealand (DINZ) and the New Zealand Deer Farmers' Association (NZDFA). It is published on or near the 20th of February, April, June, August, October and December.
To view current issues of Deer Industry News, click here >>
To view Deer Industry News archived issues pre-July 2021, click here >>
Deer Industry News is the only publication dedicated exclusively to the NZ deer farming industry. It provides comprehensive coverage from the farm through to the end consumer. Story topics include:
Industry events
Farm productivity improvement
Deer health and welfare
Environmental management
Scientific developments
Product marketing
People profiles
It is produced on behalf of DINZ by Phil Stewart of Words & Pictures, which is responsible for the editorial content and advertising sales.
Subscriptions
Deer Industry News is sent free of charge, either by post or digitally, to all known New Zealand deer farmers and service providers. As at December 2020, the circulation was 2,933. Paid subscriptions are also offered to overseas subscribers. Subscriptions are managed by DINZ.
To subscribe
Email: info@deernz.org
Tel: +64 4 473 4500
Advertising
Deer Industry News welcomes display advertising as well as loose inserts. Advertising is managed on behalf of DINZ by the editor/advertising manager.
To download the advertising rate sheet, click here >>
Contact
Phil Stewart
Editor/Advertising Manager
Mobile: 021 620 399
phil@wordpict.co.nz
www.wordpict.co.nz
There are two e-letters produced by DINZ that are must-reads for anyone who is interested in deer farming and the NZ deer industry:
DINZ eNews
Stagline Online
DINZ eNews
DINZ eNews is produced every 4-6 weeks by Deer Industry NZ and is free to anyone with an interest in deer farming and the markets for deer products. It focuses on deer industry news and developments, comprising two or three articles in media release format, plus a selection of news briefs.
To subscribe, click here >>
Contact
Trevor Walton
021 381 465
twalton@wham.co.nz
Stagline Online
Stagline Online is the New Zealand Deer Farmers Association's (NZDFA) online newsletter, emailed to all paid-up NZDFA members in the first week of every month. It is produced by DINZ on behalf of the NZDFA and covers issues and seasonal topics from a deer farmer perspective.
To receive Stagline Online, you need to become a member of the NZDFA.
More about the NZDFA, click here >>
Contact
Cenwynn Philip
04 471 6110
cenwynn.philip@deernz.org
Deer Industry NZ produces an Annual Report that provides a useful summary of its activities as well as an overview of the state of the industry in the preceding year, ending 30 September.
Deer Industry NZ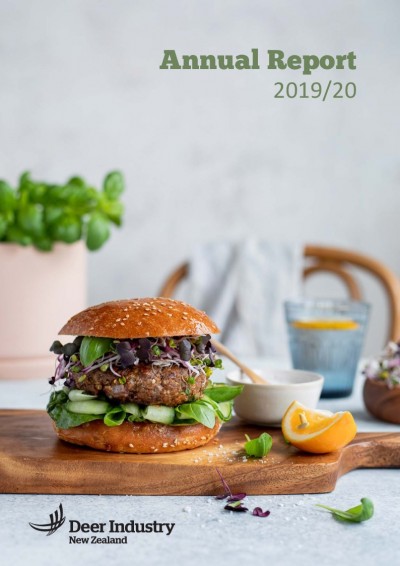 2019/20 Deer Industry NZ Annual Report
2018/19 Deer Industry NZ Annual Report
2017/18 Deer Industry NZ Annual Report
2016/17 Deer Industry NZ Annual Report
2015/16 Deer Industry NZ Annual Report
2014/15 Deer Industry NZ Annual Report
2013/14 Deer Industry NZ Annual Report
2012/13 Deer Industry NZ Annual Report
2011/12 Deer Industry NZ Annual Report
2010/11 Deer Industry NZ Annual Report
2009/10 Deer Industry NZ Annual Report
2008/09 Deer Industry NZ Annual Report
2007/08 Deer Industry NZ Annual Report
2006/07 Deer Industry NZ Annual Report
2005/06 Deer Industry NZ Annual Report
2004/05 Deer Industry NZ Annual Report
2003/04 Deer Industry NZ Annual Report
2002/03 Deer Industry NZ Annual Report
For industry background information, names of subject matter experts, images and video footage, please contact:
Trevor Walton
Communications Adviser
Tel 021 381 465
twalton@wham.co.nz
Deer Industry NZ spokesperson
Innes Moffat
Chief Executive
Tel 021 465 121
innes.moffat@deernz.org
Back to Deer Industry New Zealand