NZDFA Executive Committee and Selection and Appointments Panel, and the Deer Industry New Zealand (DINZ) Board are open for nominations around February/March each year.
We encourage anyone who would like to be involved in the industry at another level, or knows of someone who would be a great representative of the industry, to consider nomination for these roles.
Nominations for the 2023/24 year
NZDFA positions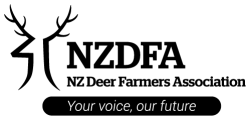 This is a busy year for NZDFA appointed positions as we have five positions becoming available by rotation (appointment by nomination and election, if necessary):
Two NZDFA Selection and Appointments Panel (SAP) members
Three NZDFA Executive Committee (EC) members
The following members are up for re-election or retirement:
Leith Chick (SAP, appointed 2022 for 12-month term) - not seeking re-election
Donald Whyte (SAP, appointed 2021)
Justin Stevens (EC, appointed, 2021) - seeking re-election
Mark McCoard (EC, appointed 2021)
Jamie Ward (EC, appointed 2022 for 12-month term)
The NZDFA needs leaders to maintain an effective voice for farmers at the industry level, pan-agricultural sector level and with regional and central government so we encourage you to think about any of these positions.
This is a chance to shape the association's future and have a say in the industry as well with all positions responsible for appointing our four producer representatives to the Deer Industry New Zealand (DINZ) board.
Deer Industry New Zealand – NZDFA appointed board member

The DINZ board guides the actions that DINZ is taking to accelerate the industry recovery and give confidence that we have a sustainable and profitable future.
There is one producer-appointed position on the DINZ board open for nomination crested by the retirement by rotation of Kris Orange.
Nominees will have an opportunity to address the NZDFA AGM in May and will be interviewed in June by the NZDFA SAP to decide on the best candidate.
Have your say in the industry's future and consider a nomination for the Deer Industry New Zealand board.
Nomination forms and further information
2023 Nomination Forms
NZDFA Exec Committee nomination form >>
SAP nomination form >>
DINZ Board nomination form >>
NZDFA AGM
NZDFA nomination rules and instructions
Rules and amendments to the voting guidelines >>
Further information
Nomination forms can be requested from the NZDFA office (phone: 04 473 4500; email: lindsay.fung@deernz.org). The above files are editable PDFs, please get in touch if you require a Word document.
Nominations must be received at the DINZ office (email: lindsay.fung@deernz.org or fax: 04 472 5549) by 4.00pm Friday, 31 March 2023.
If you would like to indicate your interest, or talk to someone in confidence about these positions, please get in touch with NZDFA Returning Officer Lindsay Fung on lindsay.fung@deernz.org or 027 668 0141.
If you would like to discuss the positions with a current EC or SAP member to get an understanding of first-hand experience, please visit deernz.org/nzdfa/contact-us
2022 Results
NZDFA Executive Committee: Karen Middelberg (re-elected, 2 year term) and Jamie Ward (appointed for a 12 month term due to no nominations for retiring member John Somerville's position).
NZDFA Selection and Appointments Panel: Leith Chick (re-elected, 12 month term), Graham Peck (2 year term) and William Oliver (2 year term).
DINZ Board: Two producer-appointed vacancies – Jacqueline Rowarth (3 year term) and Hamish Fraser (3 year term).
Financial Assistance for Branches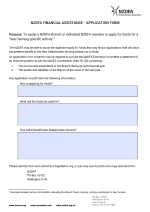 The NZDFA is aware that some of the smaller branches have limited funds and are therefore unable or reluctant to attend events such as the Branch Chairs meeting or organise/run events.
The NZDFA has built up fund reserves over the years and is in a position to offer some assistance to branches that might otherwise struggle to send their Chairs or New Faces to the Branch Chairs meetings. Assistance could also be provided to branches that wished to run other events such as a workshop or field day on topics of interest to deer farmers.
And while this funding assistance will have limited scope, the NZDFA could also assist applicants to apply to other funding sources such as the Ian Spiers Memorial Trust for leadership development opportunities.
Interested applicants (DFA Branches or individual farmers) are requested to fill out the simple, quick application form on the DINZ website (click here).
Back to About