Mar 16, 2023

Click a heading below or scroll down to read
"Robust discussions" around new Deer Industry Strategy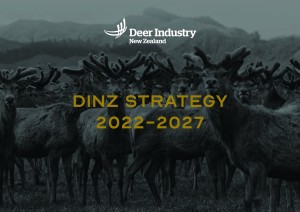 The new Deer Industry Strategy is attracting plenty of feedback from farmers and other stakeholders around the country, which is being fed into the rapidly developing operational programme.
The Deer Industry NZ (DINZ) board's top-down vision for the industry's five-year strategy to 2027 was "robustly discussed" with South Island deer farmers at kitchen table meetings and sessions with the NZ Deer Farmers Association (NZDFA)'s South Canterbury and North Otago and Canterbury branches last month. Rescheduled meetings with North Island deer farmers are taking place in the coming weeks.
Discussions centred on the need for continued improvement in venison prices and actions to restore confidence among breeders who are considering the place of hinds on their properties, along with the continuous increase in costs of compliance and inputs.
The meetings highlighted the desire of all parties to be part of a thriving industry – "but that the money needs to be in it to thrive," reports DINZ chief executive Innes Moffat.
"We have to be confident that deer farming has a very firm place in the landscape of the future, but that will mean we will need to work collaboratively to achieve that outcome," he says.
The feedback is helping to refine the operational programme. DINZ staff are now looking at the priority areas to ensure there is the capability within the organisation to deliver on those priorities.
New operational plans will be submitted to the DINZ board in April. Subject to approval of the plans, these will then be communicated to the rest of the industry at the Deer Industry Conference, to be held on 10 May in Ashburton, Canterbury.
China reactivating for New Zealand velvet
Velvet has been flowing better to China after the "very tough and complicated" start to this season, reports DINZ manager markets Rhys Griffiths.
After a "good start", once the initial orders to reputable food companies were satisfied, orders from the commodity market "trickled along". Now, reports suggest, most of this season's velvet has been committed to and exporters are preparing the last of their shipments for the year.
Improved confidence from buyers after the Chinese New Year saw commodity prices firming from the initial lower offers, as predicted, he explains. However, these were still lower than the opening offers from Korean food companies. Any port issues have largely disappeared as trade has reopened.
"It is likely that there will be some product remaining in China, as has been the case over the past few years, but it's too early to predict how that might impact next season."
Deer Industry Conference 2023 moves to Ashburton

Cyclone Gabrielle's aftermath in Napier has led to a move for this year's Deer Industry Conference to Ashburton, where it will be hosted on 9 May 2023 by the Canterbury West Coast branch of the NZ Deer Farmers Association (NZDFA).
Programme details are being worked through but will include: a NZDFA Branch Chairs meeting the afternoon prior, DINZ market updates and the Awards Dinner where the Matuschka Award, Deer Industry Award, Environment Awards and the MSD Photo Competition will be presented.
Sponsors are being sought. If interested, contact conference organiser Melissa Bähler positiveevents@xtra.co.nz or 027 664 3080.
For all other matters contact DINZ producer manager Lindsay Fung Lindsay.fung@deernz.org or 027 668 0141.
More about Deer Industry Conference 2023 >>
Ready to shape the sector's future? Stand up for deer industry leadership
Ready to step up to shape the sector's future? Nominations are open now for the NZDFA Executive Committee, Selection and Appointment Panel (SAP) and DINZ Board for the 2023/2024 year.
It's a critical time for the sector. The NZDFA needs effective leaders to advocate for deer farmers at the industry and pan-agricultural sector levels and with regional and central government. Nominations are sought for three positions on the NZDFA Executive Committee, two on SAP and one NZDFA appointed DINZ board member.
DINZ board nominees will have the opportunity to address the NZDFA AGM in May and will be interviewed by NZDFA SAP in Wellington on 6 and 7 June to decide on the best candidate.
"Being on the NZDFA Executive Committee or the SAP is a chance to shape the association's future and have a say in the industry as well with all positions responsible for appointing the four producer representatives to the DINZ Board," notes NZDFA returning officer Lindsay Fung.
Interested? Contact Lindsay.fung@deernz.org or phone 027 668 0141 to indicate your interest or to have a confidential chat about any of the positions.
Nominations by email to Lindsay.fung@deernz.org by 4.00pm, Friday 31 March 2023.
More information and nomination forms >>
Recipe: Thai venison larb salad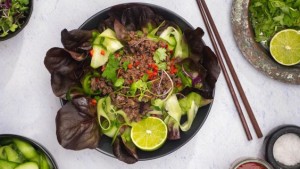 Something different to try for a quick, easy and light weeknight dinner recipe from fresh.co.nz that will take only 20 minutes to prepare and cook. The combination of fragrant exotic herbs make this lean venison dish absolutely delicious and satisfying.
Follow fresh.co.nz's step-by-step video guide >>
Events
Click on the bold links below to get more information about any of the events.
MSD/Allflex Deer Industry Photo Competition 2023 – Running to Wednesday 12 April 2023. Contact: rebecca.norling@deernz.org
2023 Deer Industry Conference – Ashburton 10 May 2023. !!SAVE THE DATE!! Contact: lindsay.fung@deernz.org. Phone: 027 668 0141
2023 Deer Industry Environmental Awards – Get your entries in now! Entries close 5pm 17 March.
Back to Industry News