Mar 2, 2023
All of us involved with the NZDFA are thinking of our farmers and wider industry whānau that have been affected by Cyclone Gabrielle. It will be a long road to recovery and we are looking at ways in which the NZDFA can help.
Charity Auction -
Raising money to help put farms back together after Cyclone Gabrielle
The NZDFA are seeking further donations for the online auction to raise funds for members of our deer farming community whose lives have been tipped upside down by Cyclone Gabrielle.
We have already had generous offers of stag semen, fencing gear, accommodation drench, and even a trophy stag!
If you would like to donate something, big or small, please email info@deernz.org with the following information:
Name of Donor, contact phone number
Description of each lot
Photo/video of each lot
Relative value for start price
Any transport/postage conditions (if required)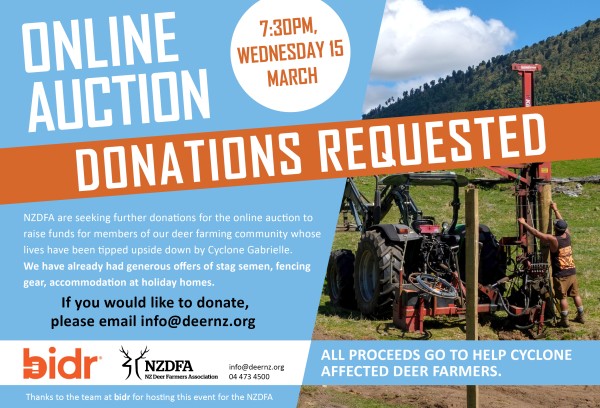 All proceeds will go to deer farmers that have been affected by Cyclone Gabrielle.
Thanks to the team at bidr for hosting this event for the NZDFA.
To offer help
The NZDFA and DINZ have been contacting all farmers in the affected areas to collate requests for assistance.
If you can offer assistance or supplies (e.g. fencing supplies, fencing labour, machinery etc), click the button below to fill in the assistance form.
Please complete this online form if you can offer assistance >>
Recovery Support
If you would like to donate money to go to helping deer farmers in the affected areas you can pass it to DINZ who will work with the NZDFA to help those most in need.

If you have a preferred region where you wish these funds to be spent, please email lindsay.fung@deernz.org to advise.

To donate, please direct credit the DINZ bank account
Account Number: 02-0506-0234007-00
Code: Gabrielle
Reference: Donation
Government Grants
Government recovery grants of up to $10,000 per farm are now available.
Details of the grants are on the Ministry for Primary Industries website:
mpi.govt.nz/funding-rural-support/adverse-events/cyclone-gabrielle-recovery-advice-support-and-funding-available/cyclone-gabrielle-recovery-grants-and-funding/
The application form and checklist are also attached here for your convenience
Email your completed form to funding@mpi.govt.nz. You can also scan or take photos of the completed application form.
If you need help completing your application, freephone 0800 00 83 33 or email funding@mpi.govt.nz
Helpful links
Back to Industry News