Jul 2, 2021
ARDLEIGH DEER FARM ARE HIRING
Feel free to contact Donald or Ben Hudson at ardleighfarm@hotmail.com or message the Facebook page facebook.com/ardleighdeer
PATHWAYS INTO PRIMARY INDUSTRIES - PRIMARY ITO SURVEY
Your answers to our survey will help get more people into lifelong careers and learning in the primary industries. We expect the survey to take around 10 minutes. The online survey is completely anonymous, and all information provided will be combined with other survey responses for reporting. There's even a draw to win prizes, which is their way of saying thank you for taking the time to help out - a Weber Barbeque; a pair of All Birds; $1000 House of Travel voucher.
To access the survey, click here >>
Please contact the PiPI team on pipi@primaryito.ac.nz for more information, or if you need help accessing the survey.
METSERVICE MONTHLY OUTLOOK - JUNE 2021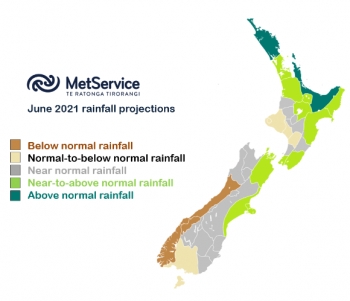 Following on from the complex low that finished autumn, and crept a touch into winter, we see high pressure building in the Tasman Sea. This sends southwest winds across Aotearoa, with cool but mainly settled weather. Come this weekend we have another low developing in the Tasman Sea heading our way. Next week this process is likely to repeat itself with a mainly settled week followed by a wet and windy weekend. This means that the first two weeks of the month won't be without their dry spells (the highs) but will likely run a touch wetter than average, particularly in the north and east. Temperatures will likely be above average thanks to mild northerlies in advance of the lows.
From the middle of the month there are signs of high pressure building near the Chatham Islands with northeasterlies covering our shores. The presence of the high means we'll likely see little rain, and the wind direction opens the door to sub-tropical warmth.
Whilst this high and dry week may be welcomed by those affected by recent severe weather, it may not last as long as hoped for. The last week of the month looks like reverting to type, with a low waiting in the wings in the Tasman Sea.
Bottom Line: A real mixed bag is on the way, most of the wet and windy weather coming at the weekends. From mid-month things settle down, but not for long.
You can sign up for the MetService's Monthly Outlook right to your inbox, click here >> to subscribe. Source: www.metservice.com/rural/monthly-outlook
Back to Industry News