Sep 8, 2022
Noticeboard
Do you want to help shape the future of NZ deer farming through knowledge and science?
We are looking for nominations for two people to join our Innovation Steering Group - Environment. The purpose of this group is to review and provide feedback on expressions of interest for science projects and their application on farm and within the deer industry and is a mix of deer farmers, industry and researchers. The group meets approximately 4 times a year and complements other innovation steering groups for genetics, on-farm and post farm gate. All travel and accommodation costs are covered.
If you are passionate about the environment and science, please contact Environmental Stewardship Manager Sara Elmes on sara.elmes@deernz.org or 027 699 5070. Nominations due by Friday September 16th.
Reminder for Industry Awards
Please remember to get nominations in for this year's industry awards by 29th September.
NZDFA Matuschka Award
This award recognises the grass roots farmer and unsung contributor to local area activities, functions and core spirit of deer farming.
Nominations are invited for a farmer or farming entity who has made a significant ongoing or lifetime of contribution to deer farming and the NZDFA in particular at Branch and regional level in any aspect for deer farming.
See more information and how to nominate someone here >>
Deer Industry Award
The NZ Deer Industry Award is an annual award presented each year to the person, persons jointly, or organisation who, in the opinion of the judges, has made the most outstanding contribution to the New Zealand deer industry, either in the previous year, or over a period of years.
See more information and the nomination form here >>
New Zealand Venison BBQ week starts this Saturday!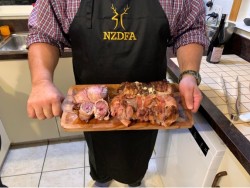 In celebration of New Zealand Venison BBQ week, the NZDFA and DINZ are putting out a challenge to all deer farmers and lovers of venison to make your favourite venison dish.
Send through photos to Producer Manager, Lindsay Fung (lindsay.fung@deernz.org) before Saturday 17th September.
There will be prizes and the bragging rights for the next 12 months, so let's get cooking!
Support this year's Velvet and Hard Antler competitions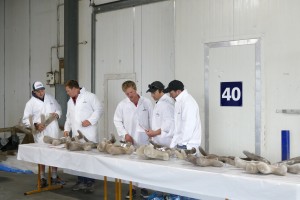 After many competitions were cancelled or postponed due to covid last season, now is a better time than any to support your local competitions and the national 40th celebration.
Not sure if your branch is involved in a competition or want to get involved? Chat to your local branch chair >>
Know velvet competitions can be found at deernz.org/home/events >>
Please email cenwynn.philip@deernz.org with any amended details or to add an event.
2022/23 subscriptions and closure of ANZ bank account
2022/23 membership
If you've not yet paid your membership subscription for 2022/23, it would be great if you could do this. The NZDFA relies on this relatively small subscription to advocate on your behalf. If you need a new copy of your invoice, please get in touch via cenwynn.philip@deernz.org
ANZ bank account
As you are hopefully aware, the NZDFA now banks with BNZ (02-0506-0268055-000). We have kept the previous ANZ account open for a period as a backup. There have been a number of payments into the ANZ account for 2022/23 subscriptions, as well as NVSB fees (which should be paid to DINZ), so please ensure that your records are updated as this account will close on 31 October 2022.
Those that paid into the ANZ account this year will receive a reminder with next year's subscription invoice to update NZDFA details to BNZ (02-0506-0268055-000).
Classifieds
Vet student looking for placement on deer farm
First-year vet student Charlotte O'Neill is looking to complete her two-week deer farm placement as part of her studies at Massey University. If you're able to help her out, please get in touch on Charlotte.ONeill.1@uni.massey.ac.nz or 022 549 2871.
Joke of the Month
When God created Adam and Eve, He said to them:
"I have two gifts to give you - one is to pee standing up and..."
Adam, very anxious, interrupted him screaming "ME! ME! I want it, please, please, please! This would make life a lot easier!"
Eve agreed and said those things didn't matter to her.
So God gave Adam the gift.
Adam was amazed, screaming for joy, running through the Garden of Eden, peeing on every tree. He ran along the beach making drawings with his pee in the sand. He lit a fire and played fireman.
God and Eve stared at the mad man with happiness until Eve asked God "And what is the other gift?"
And God answered "A brain Eve, the brain is yours."

Events
Hawkes Bay 2022 DINZ Road Trip
20 September, We couldn't bring you to Wellington, so we're bringing the 2022 conference to you! Registrations are open >>
Join the DINZ Board and Executive to discuss current DINZ activity. Venison and Velvet marketing company representatives will also be there to talk about market prospects.
Chef Graham Brown will present a variety of modern dishes using venison, and we invite you to enjoy a light meal with us after.
Check out the programme and register here >>
50 years of Deer Science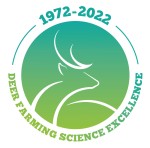 26 September. Join us for an Open Day at Invermay, and a concluding celebration with a Gala 50 years celebration evening dinner in Dunedin >>
Carpooling: We've had a few requests come through from people attending the event about carpooling. If you don't mind carpooling, please get in touch with Rebecca rebecca.norling@deernz.org. Currently we have someone from Wanaka and Ashburton or Oamaru who would like to carpool.
Environmental Award field day - Forest Road Farm
Wednesday 5 October 2022.

Attend a field day to celebrate Grant and Sally Charteris winning the 2021 Deer Industry's Elworthy Environmental Award, and the SP Corporation & Dr Gyong Jai Lee Award.
Forest Road Farm in Tikokino, Hawkes Bay, is a red deer stud and velvet farm on rolling to steep hill country.
Starting at 10:00am, the field day will include a farm tour showcasing environmental risk management and mitigation practices, and biodiversity enhancement that complement a sustainable and profitable business with deer as the core focus. The tour will finish with an awards ceremony and a BBQ lunch at 1:30pm with venison generously provided by Silver Fern Farms and Firstlight Foods.
Please register your interest in attending. Registration is essential to ensure that on-farm transport (side by sides or quad bikes) and catering can be provided.
Hawkes Bay 2022 Velvet and Hard Antler Competition
Thursday 17 November 2022, details to come >>
SCNO 2022 Velvet & Hard Antler Competition
Friday 25 November, details to come >>
North Island Velvet Competition
Saturday 26 November 2022 at Te Awamutu Race course, Viewing/Dinner 5pm onwards, Entries $35.00 / Dinner tickets $70.00, contact Craig Hocken 0274 576 388 or chocken@inspire.net.nz >>
National Velvet and Hard Antler Competition
14-16 December, Ascot Park Hotel Invercargill, awards dinner Friday 16 >>
2023 Rising Stars
Will be held at Te Awamutu on February 25th 2023. All enquiries to Helen Clarke, at campbell.clarke@xtra.co.nz >>
Back to Industry News