Feb 3, 2022
Farmer survey
HAVE YOUR SAY. The new MPI Animal Health team is conducting a survey to understand farmers' concerns and needs when it comes to animal health issues in New Zealand. Your responses will help the team develop practical programmes for farmers to use. We want farmers to be part of the team's programme development and the way we help you."
To complete the survey, click here >>
Good to Great Primary Sector People and Team Leadership Programme
Improve your knowledge, grow your skills and become confident leading your people.
View more information in these posters:
Mid Canterbury workshop >>
Southland workshop >>
Post grad looking for work
Post graduate Maisie McCulloch has just finished a Postgraduate Diploma in Animal Science at Massey University where she focused my research on deer reproduction and endocrinology.
If you might have an opportunity for Maisie and would like to view her CV, her email is maisieellamcculloch16@gmail.com
MetService Outlook - December 2021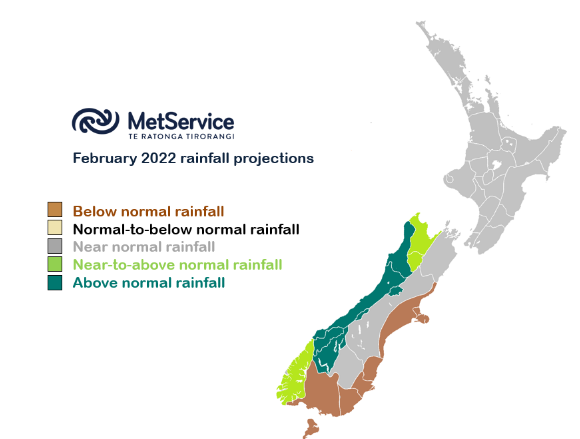 Extreme rainfall is signalled to start February – then forecasts show a return to an extended dry run.
A Red Warning for Heavy Rain is currently in force for Westland and Buller. Red Warnings are reserved for the most significant weather events. This is only the fifth Red Warning MetService has issued since the colour coded system was introduced in 2019. Rain accumulations are forecast to be 500-750mm about the Westland ranges over 2 days, and disruptions are expected. Please stay up to date with the latest warnings.
For all other areas, a burst of rain is expected between now and early next week (7th February), associated with two weather features moving across the country. Expect more rain in the next 7 days, than seen across all of January, in your region. Many North Island areas should also see locally heavy falls and decent totals, but picking who sees the best of the rain is challenging so far out.
After the middle of next week, expect another extended drier-than-normal run, as prevailing Highs build back in across the country, with easterly winds returning to Auckland and Northland.
February is forecast to be hotter than usual, overall. The exceptions are the eastern areas of both Islands, where monthly temperatures are expected to fall closer to February normal.
Bottom Line:
Red Warning currently in force for extreme heavy rain in Westland and Buller. All other regions of NZ see a burst of rain between now and 7th February, with locally heavy falls possible in some North Island areas. After the middle of next week, prevailing highs return.

You can sign up for the MetService's Monthly Outlook right to your inbox - click here to subscribe.
Source: www.metservice.com/rural/monthly-outlook
Back to Industry News