Mar 4, 2022
Important reminders for velvetters

NVSB END OF SEASON REQUIREMENTS 2021-22
Return of and reconciliation of velvetting drugs and NVSB fee: As we're now near the end of the velvetting season, all unused drugs and record books are due back to your vet by 31st March.
Please also ensure that you have paid your NVSB fee for the 2021-22 season.
Vet Practices: For any vet practice that has already reconciled, and do have drugs returned, could you please continue to update us with this information.
If need to speak to someone, please call DINZ on 04 473 4500 or email info@deernz.org
Natural Knowledge - Overview, Q&A and outline of process
The Natural Knowledge project is the deer industry's part of the MPI NZ Farm Performance snapshot.
Ministry for Primary Industries (MPI) is providing DINZ with more than $1millon of funding support to enable us to collect deer farming data over the next two years and help farmers prepare farm environment plans.
An information leaflet has been produced providing an overview of the project in the wider industry, a Q&A section to answer common questions from deer farmers and a outline of the process.
To view the information leaflet, please click here >>
For further information on the DINZ Natural Knowledge Project contact:
Emma Buchanan – DINZ Project Manager
emma@soter.co.nz | 027 438 7055
Visit mpi.govt.nz

Calling for volunteer deer farms for Lincoln University farm management students
Lincoln University farm management faculty are looking for deer farm volunteers to study as part of their 3rd year farm management course. The paper is a 'personal farm study' where a student will be allocated to you to study your farm business in 2022.
Farmers who have been involved as volunteers in the past say the questioning by the students helps them re-examine the 'why' of what they do on their farms. Those involved will from March to October 2022 host several visits by students who will write projects on various aspects of the farm business such as feed budgeting, productivity and financial performance. If you farm in Canterbury/South Canterbury/North Otago, we'd love to hear from you.

Interested? Contact Rob Aloe before Friday 11th March, rob.aloe@deernz.org, tel 0274 486 771.
'Know Your Number' GHG Workshop - Central Hawkes Bay
When: Tuesday 29 March 2022
Time: 1:00 - 5:00pm
Where: Waipukurau
The workshops will cover (4) parts:
An explanation of why every farm should know their GHG numbers and have a plan.
A case study demonstration of what the GHG calculation involves.
Completing the GHG calculation for your farm.
A completed GHG action plan with examples of farm systems, and management actions that can be taken to sustainably manage GHG emissions.
For more detailed information and to register, click here >>
Survey of Rural Decision Makers 2021 - summary results and information now available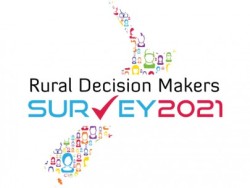 The Survey of Rural Decision Makers is the leading source of information on values, decision making, and outcomes among New Zealand's farmers, foresters, growers, and lifestyle block owners. The survey goes beyond simple questions of "what", "when", "where" by delving into "why" and "how", thus helping environmental managers and policy makers better understand evolving land management practices.
The fifth biennial Survey of Rural Decision Makers was conducted in winter 2021. The survey addressed similar topics to the previous surveys, but questions have been refined to reflect topics of emerging interest. In 2021, these topics included regenerative agriculture, emergent weeds, greenhouse gas emissions, managerial focus, well-being and stress, sources of information and advice, and consumer expectations.
Sample results and information sheets from the 2021 Survey of Rural Decision Makers are available here https://www.landcareresearch.co.nz/discover-our-research/environment/sustainable-society-and-policy/survey-of-rural-decision-makers/srdm-2021
MetService Outlook - March 2022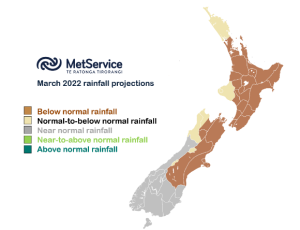 A high prevails over Aotearoa this week, bringing a drier spell with somewhat cooler conditions.
A cold front tries to break this pattern early next week, to deliver rain over the far south of the country, but it may not progress well against the intense High. Ditto for any tropical easterlies to the north of New Zealand. For most of the country, next week continues on the dry side, with a return to well above average March temperatures.
For the second half of March, temperatures remain well above average. Highs are also likely to remain prevalent over our weather maps, especially over the South Island, but at this time of year, the odd front will make inroads (and bring passing rain). Intermittent easterlies are likely to continue across the upper North Island for the back half of the month, with top-up showers possible there.
Overall, a warmer than usual March is forecast. Below normal March rainfall is forecast for most regions, with the exception of Westland, Fiordland, Southland and Otago (near normal tallies there).
BOTTOM LINE:
A warmer than usual March for all areas. Below normal March rainfall in most regions, with the exception of Westland, Fiordland, Southland and Otago (near normal tallies).

You can sign up for the MetService's Monthly Outlook right to your inbox - click here to subscribe.
Source: www.metservice.com/rural/monthly-outlook
Back to Industry News