May 5, 2022
Elections 2022 - NZDFA Selection and Appointments Panel
The 2022/23 subscription invoices for the NZDFA have gone out in the post and if you are eligible to vote for the NZDFA Selection an Appointments Panel, included will be voting papers.
This election is to fill the two vacancies by retirement and one extraordinary vacancy of the Non-Executive Committee members on the NZDFA Selection and Appointments Panel. On the vote paper, record your vote by striking out the name of the candidate for whom you DO NOT wish to vote for.
The two candidates receiving the greatest number of votes will each be appointed for a two-year term to fill the vacancies created by retirement by rotation. The candidate receiving the third-highest number of votes will be appointed for the one-year term created by the extraordinary vacancy.
Voting papers not received (postmarked) by 5.00pm Wednesday 18 May 2022 will be declared informal and not be counted.
For any queries, please get in touch with Lindsay Fung, Returning Officer, New Zealand Deer Farmers' Association on lindsay.fung@deernz.org or 027 668 0141.
MetService Monthly Outlook - May 2022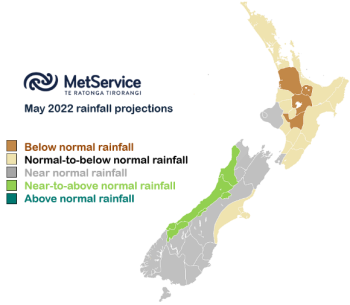 High pressure continues to dominate the weather maps through the first half of May bringing extended runs of settled weather, and plenty of sunshine, to both islands. This will be briefly punctuated by a weakening Tasman Low and attendant fronts which begin to affect South Island from late this weekend, moving onto North Island early next week. Whilst offering healthy rainfall across South Island, especially west of the Divide, expect rain from this system to become increasingly patchy further north and east. The next strong high then quickly moves into the Tasman Sea through mid-next week with cooler south-westerly winds spreading across New Zealand and some crisp mornings developing.
As we head beyond mid-month, and the end of Autumn, signs that a more unsettled spell may begin to develop with high pressure slowly eroding away to the east. Whilst there remains uncertainty as to just how quickly this will occur, we can expect to see some increased mobility returning to the weather maps with more frequent Southern Ocean fronts washing up across the country. This is much more typical of late Autumn with areas exposed to vigorous westerly flows likely to see the best of the rainfall. With this expect more temperature volatility too as short, sharp cooler snaps become more likely, especially by the end of the month.
Bottom Line:

Following a dry April, May starts in the same vein with high pressure dominance keeping rain-makers to a minimum. Signals that high pressure may fade over the second half of the month with some more typical Autumnal volatility returning.
Back to Industry News