Jul 7, 2022
Share your thoughts and help NZDFA provide a strong, independent voice for New Zealand deer farmers.
I first started at DINZ in 2006 but my working life has always been tied to the primary sector, initially with forestry and then as a scientist working with hill country farmers, with limited dealings with dairying and later horticulture and arable. Through all of this there have been two primary sector groups that I greatly enjoy interacting with and feel proud to be associated with: farm foresters and deer farmers.
The common theme with these quite different groups is enthusiasm and passion for what they do. And the sub text to that is a willingness to push boundaries, explore options and innovate. I'm not saying all farmers have these qualities, but it is always evident when you get a group of deer farmers (or farm foresters) together to look at an issue.
It's inspiring to observe and as one regional council sustainability advisor remarked to me: "I've never seen this with any group of sheep and beef or dairy farmers".
Which brings me to the NZDFA.
As mentioned in the latest (2021/22) NZDFA Annual Report, membership represents over 70% of all deer farmers – which stacks up very well compared with other voluntary subscription farmer/producer organisations. However total membership has dropped from 1193 in 2019/20 to 1045 in 2021/22, although some of this decline will be due to farmers retiring.
Now more than ever deer farmers should harness the power of the group to challenge and resolve issues that are affecting their businesses and livelihoods. Everyone is no doubt familiar with the freshwater regulations that are being rolled out for winter grazing, wetlands and stock exclusion from water ways. Many are also aware of the looming price on animal greenhouse gas emissions (and the significant impact this could have on extensive farming). NZDFA has a vital role here in representing your interests.
But there are the ongoing challenges for the industry too – what career pathways are there for school leavers wanting to get into deer farming? How can we engage with young minds so that they are aware that deer farming is a viable and sustainable land use and an enjoyable lifestyle? What can be done to assist families with succession? How do we demonstrate to our customers, end consumers and neighbours that our farms and animals are managed to high standards of animal welfare, environmental sustainability and community responsibility?
The NZDFA, quite separate to DINZ, already invests heavily in time and people on a number of activities such as: the Next Generation programme, primary industry training, succession workshops, the National Velvetting Standards Body, Tb control and OSPRI. Not bad for a voluntary organisation.
But in today's world what could it be doing differently, or more of? What would it take for the NZDFA to attract 90 % or even 100 % of all deer farmers?
In this issue of DFA Stagline there is a link to a short survey to find out what NZDFA members value about the organisation and what they would like to see more of. Please take a small amount of time to complete the survey – the results will help us to provide a strong, independent voice for deer farmers >>
In my role as Producer Manager I am extremely fortunate to have a team of equally enthusiastic and highly able colleagues at DINZ that also provide support for NZDFA activities. Sara Elmes as the Environmental Stewardship Manager will continue to advocate on behalf of the DFA branches on regional environmental regulations, as well as collaborate with NZDFA on national environmental policies. Having started in December last year she has already managed to visit a good number of farmers and groups including the Hawke's Bay Originals Advance Party (see photographic evidence from Richard Hilson below) and most recently at the Southland Winter Barn field day.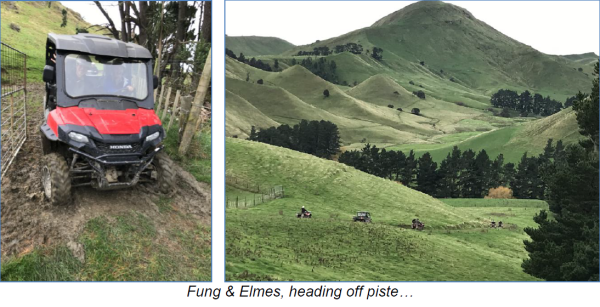 Making the NZDFA tick and the events run smoothly are the DINZ office staff Cenwynn Philip and Rebecca Norling. If you've had to phone the office for any NZDFA related matter you will likely have already spoken to one of them.
Please feel free to get in touch with me or any of the team.
I hope to visit as many NZDFA branches as I can on a regular basis and Sara is also only a phone call or email away for any environment queries you may have.
Best wishes for the season ahead… and beyond.

Lindsay Fung
DINZ Producer Manager

Contact details:
Lindsay: 027 668 0141 or lindsay.fung@deernz.org
Sara: 027 699 5070 or sara.elmes@deernz.org
Back to Industry News