Sep 8, 2023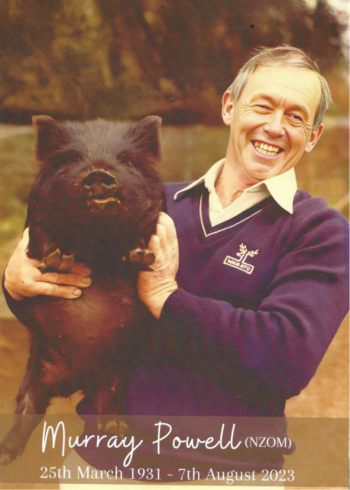 POWELL, Murray (NZOM). On Monday 7th August 2023 peacefully at Tamahere Eventide, aged 92 years. Much loved husband of the late Gloria. Dearly loved Dad of Sharon; Delwyn and Keith (deceased); Peter (deceased) and Sue; and Robyn. Grandad of 7 and Great-Grandad of 6.
A farewell for Murray was held on Thursday 7th September and included a number of delightful tributes from family and friends, and those associated with deer farming, bird breeding, Fish and Game, past and present Directors of The Hamilton Zoo and the Hamilton Mayor. The constant theme was of Murray's sharp mind and his passion for people, wildlife, research, conservation. His was a life of service and immense voluntary contribution to the Deer Industry and Wildlife conservation.
Clyde Wade presented a wonderful tribute to Murray and with his permission, I share some of it here. Murray was pretty much the father and founder of deer farming in the Waikato. He was the driving force behind the establishment of the Waikato DFA and a significant contributor to the NZDFA. He was made an honorary life member of both organisations. Murray gave his time and advice willingly to all comers – whether farm visits, advice on animal health or design of farms and facilities. My own story illustrates both Murray's generosity of spirit and his impact on deer farming in the Waikato. In the early 1980s I bought some land with a view to deer farming. Needing advice, I was directed to Murray Powell. Murray came out to my farm, paced out proposed fences, gates and races – marking them out with electric fence standards. Murray then built my deer handling facilities inside my barn – with me providing the materials. Murray would not accept any payment for his work.
Murray and Gloria established the Hilldale Zoo and Wildlife Park in 1969, even after gifting Hilldale to the City Council in 1976 Murray and Gloria continued to make a major contribution until 1983. I have talked a lot about Murray but whatever he achieved could not have been done without the active support of Gloria. His royal honour was richly deserved it is a tragedy that Gloria didn't survive to get one too.
Throughout a long career Murray demonstrated a drive and passion for his various life interests. He had a prodigious work ethic, was determined, persistent but always positive. He provided endless support to the Hamilton Zoo, deer farming, conservation and avian husbandry almost always on a voluntary basis and not infrequently at personal cost.
'Kua hinga te tōtara o Te Waonui a Tāne' (the tōtara in the great forest of Tāne has fallen)
- Obituary provided by the Waikato Branch NZDFA, compiled by chair Catherine Morrow
Back to Industry News