Nov 4, 2021
It's only a matter of time before a positive case of COVID-19 turns up on-farm. Is your business prepared if one does?
It's important you have a plan to ensure your farm can continue to operate if you, an employee, or a family
member contracts COVID-19. You may be required to leave your property quickly.
Having a plan will help give you peace of mind that others will be able to step in and help.
Checklist for farmers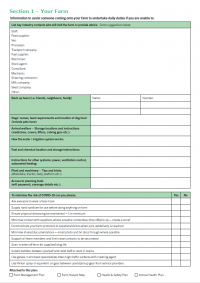 A checklist has been created to help you create a plan in the event you are required to leave your property and are unable to look after your animals, staff and business. The detail contained in your plan is unique to your own property and circumstances to allow family, friends or neighbours to come in and tend to the immediate needs of your livestock.
The plan is broken up into four sections. These are:
Section 1: About your farm – How it works.
Section 2: COVID-19 on farm – the next 14 - 21 days
Section 3: Information to assist the Medical Officer of Health
Section 4: Personal wellbeing
We encourage you to involve your staff (if you have them) and your family with this planning. Please remember, this checklist is not exhaustive and you can add anything that will assist your planning.
Click here (or on the image to the right) to download the checklist >>
COVID-19 on farm self isolation or quarantine - what you need to know
This webinar from Tuesday 2nd November is your opportunity to hear what will be considered when a Medical Officer of Health makes a decision on whether or not you can isolate and continue to work on farm.
Dr Michael Butchard, Medical Officer of Health discusses what considerations are taken into account when making a decision and answers questions on this subject. Dr Butchard is supported by other medical professionals, including an expert on vaccinations.
Back to Industry News