Jul 13, 2023
Last week the second and largest convoy of Southland deer posts headed north to Hawkes Bay. This massive undertaking, the brainchild of Mike Wilkins, Wilkins Farming in Southland, saw nearly 3000 deer posts arrive late in the afternoon (on yet another wet and windy day, unsurprisingly) at George and Laura Williams' property in Central Hawkes Bay. In a carefully choreographed manoeuvre, the trucks and their trailers arrived just behind the Seven Sharp crew, lead by hard case southern TV front man, Julian Lee, for some added exposure for what has proven to be a most generous offer for flood-stricken East Coast deer farmers.
With one unit already delivered to HB, this convoy was quite a sight to behold – four massive blue and white trucks, still shiny after all that distance, fully laden, and a team of professional drivers.
With several utes and trailers on hand to take some allocations for local farms, the scale of the logistics around this entire process were something to consider. Not only had the materials been gifted, but a large number of sponsors had come on board to cover fuel, road charges, ferry, freight and all manner of associated costs. With earlier loads covered by donations and the local NZDFA Branches (and some of the BIDR-raised funds from that huge on-line auction), the total programme has probably delivered close to $100000 of posts to help put back infrastructure lost to Cyclone Gabrielle.
It turned into a long evening for everyone. Anyone who looked like a farmer was interviewed, the truck drivers ducked and dived to avoid the camera and microphone, the wind blew umbrellas inside out, local expertise helped with the sound equipment and all the while George Williams, the only bloke with a telehandler in the whole district, was unloading bundles of posts into his tidy yard and making a horrendous mess in the mud.
It is expected that some candid commentary about the size of the high-quality southern posts, and the manner in which they would need to be used, will never make primetime TV for the rest of NZ, despite the TV crew being keen to capture some hilarious sound bites!
On behalf of the HBDFA and other cyclone-affected branches, our most sincere thanks to Mike and his team for this incredibly generous offer. The scale of damage in the Bay is something to behold, but this sort of generosity, much of it from complete strangers, makes a huge difference to the morale of local deer farmers as they face ongoing recovery costs.
Photos courtesy of Seven Sharp.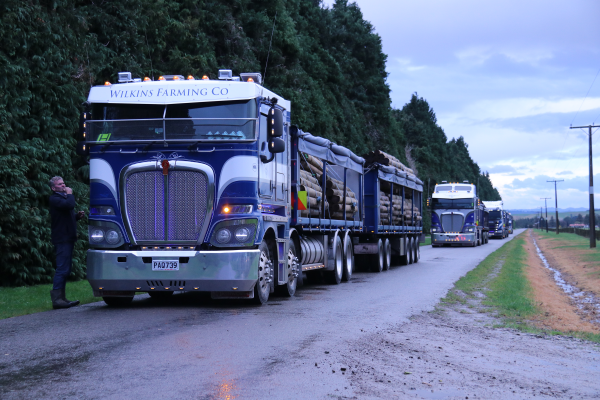 - Richard Hilson, Hawkes Bay NZDFA
Back to Industry News