May 5, 2022
DINZ is working to keep New Zealand venison at the front and centre of Kiwi cooks' minds. Nick Taylor, Deer Industry New Zealand's Venison Marketing Manager, has been working on campaigns that show why venison is a great addition to a healthy diet.
"The promotions have not only focused on venison's great taste and versatility, but also on its wealth of nutritional attributes such as being higher in iron and protein, and lower in fat than other red meats, as well as being a great source of zinc" says Nick.
Can't go past these venison nachos for an end of the week pick me up - especially when it's made using New Zealand farm-raised venison 👌🏼 | By New Zealand Venison | Facebook

"An exciting initiative to be part of was the 30 Days NZ Food Writers Challenge – which New Zealand Venison sponsored," Nick adds. The challenge, held over March and April, included two special days dedicated just to venison.
"The result was a great success with some of New Zealand's most prominent food writers sharing images of their dishes and serving up inspirational recipes ranging from impressive dinner party dishes such as seared venison rump, to simple everyday meal ideas such as tasty and lean venison meatballs and salads."
The NZ Food Writers Challenge followed promotions in the NZ Herald's Viva and Canvas publications and social media channels in December, as well as the Australian and New Zealand Women's Weekly feature on NZ venison in its Kiwi Christmas article, which resulted in over 20,000 video views and 1,000 user engagements on social media.
The next New Zealand venison promotion on its way is a series of advertorial recipes in Dish magazine starting from June, giving Kiwi cooks even more reasons to add venison to their shopping lists.
Venison projects helping the recovery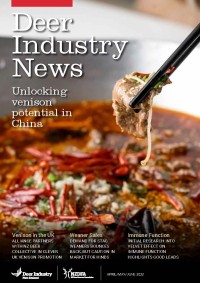 The latest Deer Industry News highlighted the work happening with venison. If you haven't checked them out, click through on the articles below to read:
Back to Industry News