Aug 21, 2023

Click a heading below or scroll down to read
Main
In Brief
Government releases greenhouse gas position
You will have seen that on 18 August the government announced their approach to monitoring and pricing agricultural emissions. Deer Industry New Zealand acknowledges the government proposal for the introduction of mandatory greenhouse gas reporting in 2024, followed by the introduction of pricing in Q4 2025.
DINZ agrees that the New Zealand agricultural industry needs to measure and take steps to reduce greenhouse gas emissions. This is in the national interest. DINZ supports investment in research to develop tools that farmers can use to reduce methane and nitrous oxide emissions. DINZ has worked with farmers and other sector groups across New Zealand to calculate farm's greenhouse gas emissions. DINZ supports the decision to make provision for the inclusion of more on-farm sequestration into the New Zealand Emissions Trading Scheme.
DINZ remains concerned at the proposal to be introducing pricing on agricultural emissions before farmers have access to cost-effective mitigations.
DINZ will be working with other sector groups to analyse the government's proposals to further understand what they mean for deer farmers and will continue to strongly represent the interests of the deer sector in the ongoing discussions on the implementation of the greenhouse gas monitoring scheme.
Innes Moffat
CEO, DINZ
BBQ tongs at the ready for NZ Venison BBQ Week 4-10 September
Get those BBQ tongs clicking!! It's all on for 4-10 September, which has just been announced as this year's NZ Venison BBQ Week. It's something everyone can get involved in at the start of the venison season.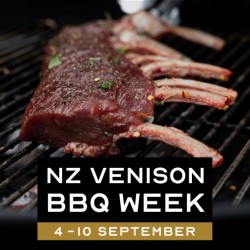 Venison marketing companies and their customers will be working on BBQ promotions around the world.
"BBQ is one of the most accessible gateways for consumers," says NZ-born but Berlin-based chef Shannon Campbell, who has been contracted by DINZ to coordinate BBQ Week activities with companies in the UK, Europe, USA and China.
"It gives us a chance to boost the profile of NZ Venison outside the traditional game season."
Kiwi Hunter McGregor, selling venison in Shanghai, came up with the idea for a NZ Venison BBQ Day two years ago. Past events have included BBQ taco pop-ups, companies having BBQ sessions for staff and clients, chefs trying out NZ venison samples on their BBQs, along with online competitions, and social media promotion. Extended to a week in 2022, the BBQ promotion saw many in the NZ Venison community barbecuing for family and posting images on social media.
For Campbell, it is encouraging to see people involved in so many ways around the world, "and enthusiastic for our amazing venison."
While maybe still a bit cold in parts of New Zealand for outdoor cooking, the Northern Hemisphere late summer is perfect timing for New Zealand venison ahead of the traditional game season, explains DINZ manager markets Rhys Griffiths.
"People are thinking about autumn dishes in September, but it's still warm enough for outdoor dining. "Getting venison on the BBQ is a great way of combining European tradition with modern cooking.
"It'll be fun in New Zealand too – though you might just be cooking in your Swannie."
To share those BBQ creations on social media use the hashtags #nzvenisonbbq, #nzvenisonbbqweek @nzvenison. For further information contact rhys.griffiths@deernz.org, phone 021 506 647.
What will you serve up this year?
Sharing views on deer farming in Wanaka
DINZ chair Mandy Bell hosted officials from the Ministry for Primary Industries (MPI) at Criffel in Early August.
A fresh dusting of snow on the tops showed off central Otago at its wintery best as Bell and DINZ CEO Innes Moffat talked about how deer fit into the natural landscape.
DINZ has regular engagement with officials from MPI on policy matters ranging from market access, food safety, farmer engagement and on-farm support. DINZ had invited Wellington MPI officials Steve Cunningham, Jenny Cameron and Kim Reilly, regional manager on-farm support, to spend time on the farm near Wanaka and share with Bell some of the development work going on in the Wanaka basin by Cardrona valley deer farmer Hamish McKay.
Topics discussed included: the impact of rising input costs on extensive farming; managing deer on sensitive environments while enhancing native biodiversity; and working together with communities to show how farming makes a positive economic and environmental contribution.
Exchanging tips on managing lameness in deer
Deer lameness was the focus for two workshops that took place in Waipawa and Geraldine recently.
It was a good opportunity for around 40 deer farmers and vets to get together to exchange their experiences of what contributed to and helped to manage lameness on-farm, organiser and deer vet Pania Flint reports. The workshops were funded by DINZ's industry capability budget.
Lameness by its very nature is a painful condition, a serious animal welfare concern and major loss of production.
"Outbreaks resulting in significant production losses, financial losses and farmer distress have occurred on farms in the past 20+ years and the frequency of outbreaks seems to have increased in recent years," says Flint.
Three main types of lameness were explored in the workshops: 1) outbreaks of necrobacillosis in weaner deer causing lameness and death; 2) outbreaks of foot and pastern infection in adult deer, particularly in stags, but also hinds; and 3) high incidence of white line disease and abscess of the hoof in adult stags.
Twelve main risk factors were identified by participants, who also discussed potential management strategies. That has enabled a list of on-farm actions to be developed.
The workshops have pulled together a lot of useful information about deer lameness on-farm, says Flint, who also undertook a literature review of causes and management of lameness in deer.
Her report 'Necrobacillosis and lameness in deer', including a summary of the current knowledge about necrobacillosis is available on the Deer Hub.
Read the Fusobacteriosis Deer Fact sheet here >>
Elk-infused Next Generation gathering
The open and inquiring minds of 50 Millennials sparked plenty of questions and open discussion at the NZ Deer Farmers Association (NZDFA)'s eleventh Next Generation event held in and around Ashburton on 3 – 4 August.
The event was elk/wapiti-infused thanks to input from members of the Elk & Wapiti Society (EWS). On the first morning, hosted at the Lowe family's 292 hectare (ha) irrigated mixed cropping, sheep and crossbred weaner finishing farm at Hinds, EWS president Grant Hasse overviewed 'what's-the-same-but-different' between elk-wapiti and red deer. Attendees then heard about management considerations – not only for elk/wapiti - around yard handling, parasite management and the 'hard and fast' mechanics of deer mating.
Crossbred weaners featured on Day Two's visit to Mountain River-owned 668ha deer finishing and velvetting enterprise at Northbank Station, Rakaia. Farm manager Adam Waite talked about the logistics and challenges of managing a dynamic weaner finishing operation to meet the supply requirements of Mountain River.
Indoor sessions on both afternoons covered off pathways to deer farm management and ownership and agri-funding considerations; Mountain River and Provelco marketing; using genetics for productive gain; and the two-year cadet training programme at Coleridge Downs.
The annual muster is a key initiative driven and funded by the NZ Deer Farmers Association (NZDFA). The goal of the get-together is to connect, inspire and inform the under-35s and those new to deer about deer-farming related happenings and opportunities.
More in-depth coverage of the event will run in the September issue of Deer Industry News, out later this month.
Velvetting study wins funding from China
Research identifying the molecular biomarkers of pain in red deer recently won NZ-China funding.
The research team, led by Massey University's School of Veterinary Science associate professor Kevin Lawrence, is partnering with City University of Hong Kong and Qingdao Agricultural University in the research, which has been partly-funded in this year's round from the Education New Zealand (ENZ)/ NZ-China Tripartite Partnership Fund. The NZ-China Tripartite Partnership Fund supports the development of diverse research relationships between New Zealand and China.
Focused on finding markers in blood that could indicate potential hidden pain in velvetted stags, the pilot study has also attracted a grant from Massey University. Work is expected to be completed later this year.
"Previous work in this area has been very important looking at calves and sheep. While deer are quite different, we are very interested to see how it translates in this context," says DINZ policy and research manager Emil Murphy.
DINZ moves and people
Changes at DINZ continue with three staff appointments in recent weeks, in the restructure of the organisation to make it fit-for-purpose for the deer industry's future.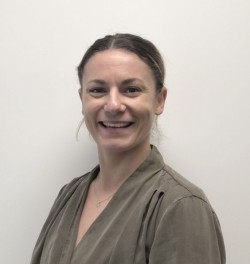 In addition to new DINZ Johne's programme manager Kathy Goodwin-Ray (profiled below), new assistant manager markets, Virginia Connell (pictured left) joined the DINZ team for the first time in Wellington this week. She will work on venison and velvet market development projects.
Former B+LNZ general manager South Island John Ladley has just been appointed as DINZ the new industry capability manager and will start on 28 August. The new role combines quality assurance and farm performance functions for DINZ. Ladley brings a wealth of commercial and farm extension experience to the role and is looking forward to getting alongside farmers to build his understanding of deer farmers' requirements.
Interviews have also taken place for a new environmental stewardship manager, to replace Sara Elmes who moved to a new role as project manager industry capability in May.
Introducing: new Johne's programme manager Kathy Goodwin-Ray
Kathy Goodwin-Ray is DINZ' new Johne's programme manager and will be looking after analysis, interpretation and presentation of data on the disease in the New Zealand deer herd.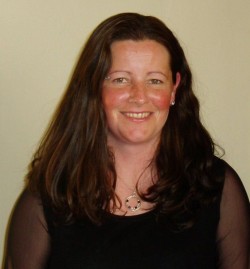 A familiar face to many, having worked for DeerPRO over the past 12 years, Goodwin-Ray (pictured) started work on 1 August for DINZ in her new role.
Starting out as JML's technical manager in 2009, Goodwin-Ray took over a contract from Massey University's EpiCentre in 2010 to provide statistical analysis of Johne's monitoring data and produced the JML quarterly report. She became DeerPRO technical manager in 2018, independently contracted to DINZ, and stepped in as its acting manager in March 2023, following the resignation of Solis Norton.
A review of the industry's needs for Johne's Disease management had reconfirmed the importance of continuing to monitor and report JD suspect lesions and had defined the scope and job description for the new part-time role, Goodwin-Ray explains. She will be working closely with venison processors, AsureQuality, veterinarians, farmers, Ovis Management Ltd and OSPRI/NAIT.
SHORTS
EVENTS
Click on the bold links below to get more information about any of the events.
NZ Venison BBQ Week – 4-10 September 2023, worldwide. Contact: Rhys Griffiths, rhys.griffiths.deernz.org, 021-506 647.
DINZ Road Trip - Alexandra and Winton - Tuesday 12 September 2023, Alexandra Bowling Club, Otago; Wednesday, 13 September 2023, Winton Golf Club, Southland.
Register here →
AWDT Generation Change – Monday 2 October 2023, Wintec Atrium, Hamilton. Register and more information at www.awdt.org.nz
North Island Velvet Competition and Awards Dinner – 5.00-11.00pm, Saturday 25 November 2023, Manfeild Stadium, Feilding. Cost and details: TBC. Contact: Craig Hocken, chocken@inspire.net.nz. Phone 0274-576 388
41st National Velvet & Trophy Antler Competition, Awards Night
Friday 8 December 2023, Invercargill. Contact: southlanddeerbranch@gmail.com
CK Import Export Rising Stars velvet competition
4.00pm – 12.00am, Saturday 9 March 2024. Contact campbell.clarke@xtra.co.nz or phone 07 873 2785.
Back to Industry News