The 2023 Awards Night has been confirmed for Friday 8th of December.
Contact southlanddeerbranch@gmail.com for any enquiries.
AWARDS DINNER / AUCTION
Ticket cost: $120 incl GST – Deadline Monday 4th December 2023 Email: southlanddeerbranch@gmail.com
There are still tickets available for the night or you can get involved via BIDR. 20% of the total sold, will be going to the Southland Charity Hospital.
ENTRY FEES
Cost: $60
ENTRY FEES MUST BE PAID prior to judging for heads to be eligible for the competition.
Direct Credit Bank Account No. BNZ 02-0957-0071534-005 only.
Please include surname and initials as reference.
CLASSES
Open Red
Elk/Wapiti Supreme
3 Year Red
4 Year Red
5 Year Red
3 Year Elk/Wapiti
4 Year Elk/Wapiti
Restricted Southland Red and Elk/Wapiti
Trophy Antler, Red, Elk/Wapiti & Fallow


The SUPREME CHAMPION is judged from first place in classes 1, 2, 3, 4, 5, 6 & &.
Click here to download the entry form and competition rules >>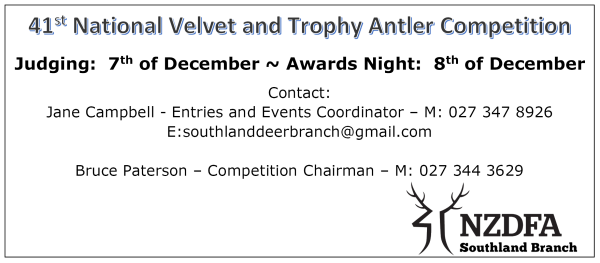 Photos from 2022: