Oct 20, 2022
Good progress is being made on growth in the US venison retail market and plans have firmed up for a proposed $5 million investment over the next three years that will keep "three legs on the venison stool," according to DINZ board member Gerard Hickey.
Hickey, who is also First Light group managing director and a member of the P2P advisory group, said he had "firmly got the message that we need to earn and pay more for our venison. US retail is part of that."
All five venison exporters had already been working together in the US for the last two years and will be for the next three years, with an independent chairman and reporting in a $5 million programme. If successful, this will involve industry funding supported by government Sustainable Farming Future Fund (SFFF) to "accelerate and champion, a US retail push," he said.
"We continue to see good opportunity for growth into that US foodservice space and the initial US retail programme has been going really well," said DINZ venison marketing manager Nick Taylor
DINZ recently submitted the application for SFFF funding, "to help the companies to really accelerate the sales and growth up there," said Taylor.
Why the US? "We need three legs to our stool," explained Hickey, referring to market diversification into three regions, the US, Europe and 'other markets' which includes China and, for First Light, the Middle East, among others.
Deer farmers also need to produce venison at the most profitable time of the year for them.
Another reason is, "we need to find a leg solution," to reduce the industry's reliance on Europe.
To date, venison companies have put ground (minced) venison into around 2,000-3,000 US retail stores.
"Now we're transitioning over to a broader product assortment. The next step will be about transitioning to venison leg products, from medallions to a whole range of charcuterie and smoked and cured products."
The best thing deer farmers and the DFA could do, Hickey said, is to "demand the venison companies continue to build three legs to their stool."
NZ venison trialled in Hopdoddy burger chain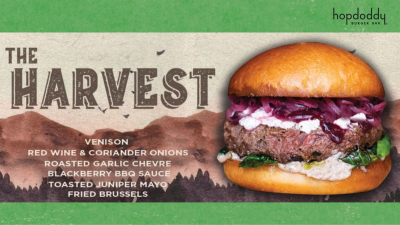 One example of a recent success, following some years of trying, is Force of Nature (FoN)'s New Zealand venison being added to US craft burger chain Hopdoddy's menu for a month-long trial.
During that time, Mountain River Venison's partner hoped to sell 14,000 The Harvest burgers – equating to about 2,500 kgs of product – Mountain River Venison director John Sadler reported. Hopdoddy currently has just over 30 restaurants and a programme in place to expand to over 100. If the trial is successful, the new venison product will be added to the Hopdoddy menu.
Force of Nature has also launched a venison Ancestral Blend, New Zealand ground venison with heart and liver. That will be going exclusively into the 380-store Sprout supermarkets on the US West Coast for three months.
"It's part of Force Pure Nature's philosophy around looking after the environment, regenerative agriculture and grass-fed meats."
Sadler is expecting demand to "stay solid in the US foodservice market."
Back to Industry News