Oct 20, 2022
Click a heading below or scroll down to read.
China: "work coming to fruition"
Work in China for venison "is really coming to fruition now" Alliance Group general manager strategy Nigel Jones told deer farming leaders last week.
Sustainable growth was around, "creating premiumisation and at scale for the sector," he noted.
Alliance's work, with its partner Grand Farm in China, has been looking at the premium space at retail and he believes has the potential to accelerate into foodservice.
The company had introduced venison roll for hot pot and cubed venison products into its range earlier this year. He was excited particularly about the venison roll, the result of close innovation with the market and using cuts that "previously have been a struggle to premiumise".
Hot pot in China is a major consumer of red meat and previously there was no venison offer, due to the technical challenges of delivery, he explained. Both products, "are really resonating well with consumers." While hitting sales targets, it was probably slower to accelerate because of the Covid lockdowns.
However, they were moving the product up the value chain, "because it is actually moving product that are low value in other markets, like Europe, and moving it through to a more premium market in China," effectively earning more return for the same leg/shoulder cuts.
Foodservice around the globe is "getting pretty close to what it was in 2019," Jones noted.
Making venison the premium hero of the plate is another initiative they are pushing hard in China and also in North America. For that reason, Alliance has just launched the Handpicked Venison programme globally, to add to the co-operative's premium beef and lamb range for foodservice.
Companies stick with Cervena®
Venison specialists Duncan NZ and Mountain River Venison have both indicated they will renew their Cervena® licenses.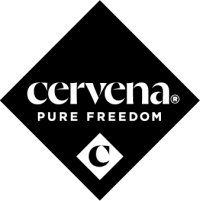 Launched 30 years ago in New York, Cervena was central to a strategy to differentiate high quality New Zealand farm-raised venison from venison sourced from the wild and elsewhere. Today, it is still recognised by chefs in the US and New Zealand.
Duncan NZ remains, "very committed to the Cervena appellation," its executive chairman Andy Duncan has been telling suppliers. He sees ongoing value in the appellation and the quality standard it represents.
"We believe further value can be added to the appellation over time, as part of the continuing challenge to rebuild farmgate returns to deer farmers following the impact of the pandemic on global venison markets," he says.
There's a "real advantage" for Mountain River Venison renewing its licence, John Sadler, marketing director, believes.
As a specialist venison provider, "The continuing return on the company's nearly 30-year investment is compelling," he says. "Cervena was ground-breaking for its promise of pulling together farmers and marketers to present a new and high-quality protein to the market," he says.
"Through the inevitable ups and downs that occur over time, Cervena remains a quality mark of relevance to the foodservice industry in target markets. That is why we will renew our licence and continue the journey with Cervena on and inside our packaging."
Low methane animals produce same meat quality
Farmed animals bred for less impact on the climate are as healthy and produce meat quality just as good, if not better, newly published results of long-running research on sheep, that might also be useful for deer, suggest.
The research has shown, after three generations of breeding, the lowest emitting sheep in a research flock produced close to 13 percent less methane than the highest emitters, per kg of food eaten. But how this impacted on the quality of the meat produced was the question, which has now been answered in a series of recently published papers in Frontiers in Genetics.
AgResearch senior scientist Suzanne Rowe says the research provides a valuable insight into what the implications for breeding for lower methane are.
"Once we knew we could breed for less methane, we set about determining what the impact on the animal might be from birth through to parenthood," she says.
"The work was carried out in flocks across New Zealand using thousands of measures over several years to demonstrate that low methane emissions can be included into breeding goals without sacrificing other key health and performance traits."
Research has now started on cattle.
Having the ability to select for less methane emitting animals is something that could be useful for deer farmers as well, says DINZ science and policy manager Emil Murphy.
"But we need to be able to do that while maintaining productivity, and eating quality in particular, so It's good to see these findings being published," he says.
"We can't put animals through the portable accumulation chambers you can use for sheep, so we are looking at other ways of measuring emission profiles from lots of animals to then create breeding values. Again, we're looking to use what is known about sheep and cattle to translate it for deer."
At last week's DFA Branch Chairs meeting, AgResearch deer scientist Jamie Ward outlined three projects that are kicking off a low-GHG deer systems research programme: finding the gaps in research and knowledge and modelling various scenarios; understanding deer biology and behaviours to enable the development of prototypes of deer-suitable methane measuring technologies; and modelling current deer system GHG reduction opportunities.
DINZ keeping alert for CWD
DINZ has been working with government on how the sector would manage a potentially devastating outbreak of Chronic Wasting Disease (CWD) in deer and is encouraging deer farmers to become part of the surveillance programme for the disease.
CWD is one of three Transmissible Spongiform Encephalopathies (TSEs) MPI is checking for in one of its key biosecurity programmes. The others are BSE in cattle and scrapie in sheep.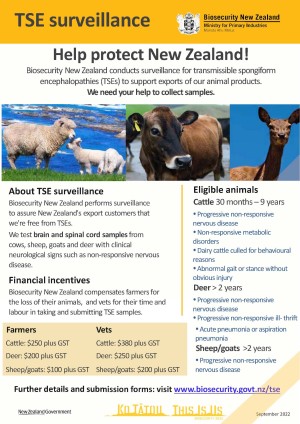 DINZ science and policy manager Emil Murphy has been working with his MPI counterparts on the draft Government Industry Agreement (GIA) on how an outbreak would be managed. This breaks down the required activities and how costs will be shared.
The disease continues to progress across the US, and cases in northern Scandinavia are still happening, he explains.
"The key to not getting CWD here is making sure infective material isn't brought onto our farms."
As most parts of an infected animal can show CWD at different stages of infection and the disease is resistant to disinfection, that means "infective traces can be carried on boots, clothes, and hunting gear that has been used in areas where CWD is present," he says.
MPI's passive TSE surveillance programme is the best chance for early detection of the disease here in New Zealand, given the length of time it can take for symptoms to show.
"While there is also surveillance of animals through meat plants, they are nowhere near as useful to find disease."
Murphy is encouraging deer vets and farmers to become part of MPI's passive TSE surveillance programme, which looks for the disease in clinically suspect animals.
"For deer, the focus will be on animals older than two years with progressive nervous disease or ill-thrift that doesn't respond to treatment, or with acute pneumonia or aspiration pneumonia. The surveillance is also incentivised by reimbursements to both the vet and the farmer."
Deer farmers would be compensated for the loss of their animals ($200 plus GST) and vets for their time and labour in taking and submitting TSE samples ($250).
Much of MPI's work going on behind the scenes to detect, prevent and respond to TSEs was detailed in an annual report reproduced in September's Surveillance Magazine (49 (3) 2022, pp 43-45).
Further details of the TSE surveillance programme and surveillance submission forms>>
Invermay 50th – just like the old days!
The celebration marking the 50th anniversary of the start of the Invermay deer research programme, held in the last week of September, had echoes of the industry's glory days: Sir Tim Wallis arriving by chopper, a witty after-dinner speech by former Game Industry Board general manager Mike Pattison, fantastic venison dishes prepared under Graham Brown's careful direction, plus 200 attendees – among them a roll call of past and present deer scientists and industry leaders.
The limelight shone brightest on Ken Drew, the original lead scientist, who convinced his boss, Jock Allison, that MAF (the then Ministry of Agriculture and Fisheries) should set up a research programme to study how to farm deer. They risked their own reputations to back a brand-new industry. Having achieved that, they surrounded themselves with a cast of science stars, who uncovered the knowledge that today underpins most day-to-day deer farm management decisions.
Industry financial contribution the key to government funding
Since the earliest days of deer farming industry, financial support for research from individual farmers, businesses and industry bodies has helped loosen the government's research purse-strings.
Dr Frank Griffin's foray into TB in deer began with funding from the NZDFA and Haldon Station's then owner James Innes. Griffin's later work with Johne's Disease also enjoyed strong funding support from the NZDFA, DINZ and Graham Carr at Peel Forest Estate.
Dr Ken Drew's deer research programme began with hinds owned by a Wilson Neill/West Dome Station partnership. This was followed by a $4.1 million Foundation for Research Science & Technology contract – the biggest single scientific project in the country at the time.
Dr Geoff Asher, who preceded Jamie Ward as deer science leader, said the establishment of AgResearch in 1992 "changed everything", including the way research was funded. Invermay scientists had to bid against their colleagues and other institutions for a limited pool of funds, yet the deer research programme won one of the biggest blocks of funding every year for 17 years.
He said the AgResearch hierarchy had faith in the programme and recognised that it was well-integrated with and supported by funding from the industry.
Dr Jimmie Suttie, who started studying antler growth in 1981 and went on to become AgResearch national science programme leader, said the Invermay deer research team had a great relationship with the GIB, then with DINZ. "We were on the one team. I don't know of any other industry where government researchers and the industry people are so close."
In the words of Frank Griffin, echoed by the other science speakers, "it has been an absolute joy working with such an incredible bunch of people for 50 years."
Ian Walker farewelled in Hawke's Bay
Immediate past-DINZ chair Ian Walker's contribution to the New Zealand deer industry was recognised with a special presentation to him and his wife Helen at the DINZ roadshow event in Central Hawke's Bay in September.
The former veterinarian had joined the DINZ board in 2016 and rose to chair in 2017, before stepping down earlier this year.
During his time in the role, among other things, DINZ introduced VelTrak™ and also the Regulated Control Scheme for deer velvet harvest. His workload grew unexpectedly heavy during a difficult time with overseeing DINZ activities throughout the Covid period and also fighting the sector's corner in He Waka Eke Noa.
Current DINZ chair Mandy Bell paid tribute to Walker for his contribution to the sector that had stemmed from his long-time involvement with the Hawke's Bay DFA branch. "A huge portion" of the programmes in place now came under Walker's guidance.
DINZ had benefitted from his steady hand at the helm, she said.
Winner of the 2022 Deer Industry Award is "a true doer"
A respected specialist deer stock agent, "a true doer" for the deer industry over the past 49 years, has been recognised with the top trophy in this year's NZ Deer Farmers Association's Deer Industry Awards.
The 2022 Deer Industry Award went to Ron "Shroeds" Schroeder, PGG Wrightson's deer specialist for North Canterbury, Marlborough and the West Coast. He has been a "matchmaker of buyers and sellers, procuring and transacting thousands of deer deals over his lengthy career," the judges noted.
The words dedicated, respected, trusted and professional sprinkled through his citations for the annual award that recognises outstanding contribution to the deer industry.
He has been a leading advocate of deer quality assurance in the industry and "loves everything about deer. He farms them, buys and sells them, hunts them, eats them and probably dreams about them. He roars like a deer and some say even looks liked a deer," they said.
Shroeder was credited with helping procure valuable genetics from the UK and Europe. He was described as a dedicated stalwart who has gone well beyond the call of duty in supporting and servicing the industry. "He always goes the extra yard for his clients."
Barry Mackintosh wins 2022 Matuschka Award
The Matuschka Award for grass roots farmer and unsung contributor went to Waikato Deer Farmers Association Barry Mackintosh.
Mackintosh, who was not present at the awards dinner, was noted by the judges as a quiet, "unsung" and relied upon member who works away seeking no recognition. He had diligently served the Waikato Branch for many years, never shrinking from his duties, and has been a "quiet ambassador" for velvet antler and a committed venison promoter.
Mackintosh was lauded both for his role over 40 years and also as a reliable velvet agent for over 20 years.
New NZDFA Life Members: Paddy and Barbara Boyd
Paddy Boyd's passion for the sector, mana and self-effacing and pragmatic manner was praised by the nominators for he and his wife Barbara's NZDFA Life Membership, which was also presented at the dinner.
Boyd's contribution included being at the forefront of live capture, the transformation of Haldon station which he had managed for the past 40 years, support for the Deer Progeny Test, Advance Parties and his representation of a large number of farming entities over the years, including sheep and fine wool, beef and deer farming.
He is a former chair of the DFA's Selection and Appointments, TB Free committees and had served on the National Velvet Standards Body and P2P Advisory Group.
Boyd paid tribute to the support he had received from Barbara to undertake the varied roles he has with the industry.
Phil Stewart, highly commended for science writing
Congratulations to Deer Industry News editor Phil Stewart, who was highly commended in the AgResearch Science Writer category of the 2022 Guild of Agricultural Journalists & Communicators Awards for two articles in Deer Industry News.
His first article, "The 100kg weaner back on radar" highlighted AgResearch Invermay work which might help open the way to earlier finishing in venison production (December/January 2022). The second "Immune function: promising steps", looked at AgResearch's early work into immune response when cells are exposed to velvet extracts, breaking the complex research into an "easily digested narrative" (February/March 2022).
Stewart was pipped at the post by the category winner Radio New Zealand's Carol Stiles who produced two items on cleaning out the sheep manure from under woolsheds and the other on the evolving culture of sheep shearing.
The category was one of 14 presented on the night.

Recipe: Venison bacon chilli
A great chilli must be one of the best dishes to serve at a casual get together. The lean and flavourful venison mince in this fresh.co.nz recipe is a perfect fit for this easy favourite. Bacon adds the salty depth to the spiciness. Make a big pot doubling the recipe and freeze some for later on.
Events
Velvet Competitions
Velvet competition season is almost here and there are a flush of competitions around the country to get involved in and attend in November and December. Click on the bold titles below to link to the latest competition information.
Back to Industry News