Aug 17, 2022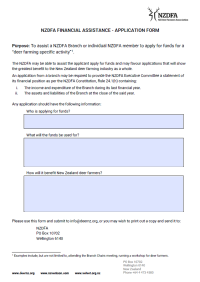 The NZDFA is aware that some of the smaller branches have limited funds and are therefore unable or reluctant to attend events such as the Branch Chairs meeting or organise/run events.
The NZDFA has built up fund reserves over the years and is in a position to offer some assistance to branches that might otherwise struggle to send their Chairs or New Faces to the Branch Chairs meetings. Assistance could also be provided to branches that wished to run other events such as a workshop or field day on topics of interest to deer farmers.
And while this funding assistance will have limited scope, the NZDFA could also assist applicants to apply to other funding sources such as the Ian Spiers Memorial Trust for leadership development opportunities.
Interested applicants (DFA Branches or individual farmers) are requested to fill out the simple, quick application form on the DINZ website (click here).
Back to Industry News