Mar 2, 2023

Issue 186 | March 2023
If you or your NZDFA branch have recently held any deer farming events, please feel free to contact

DFA Stagline

and we will aim to publish them in the next issue.
The NZDFA are keenly aware that our deer farmers in affected areas will need all the support they can get. An auction is being organised for Wed 15 March at 7.30pm to raise money to help put farms back together after Cyclone Gabrielle.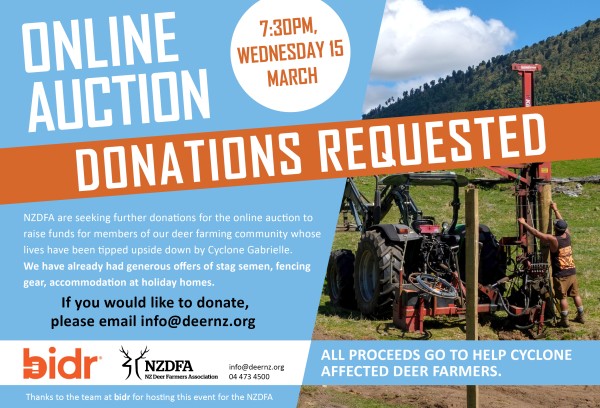 Justin Stevens reflects on the impact of the recent storms and cyclone, the 2023 CK Import Export Rising Starts competition and the venison price.
Due to the aftermath of Cyclone Gabrielle, this year's conference will not be held in Napier. Instead the Canterbury West Coast Branch of the NZDFA will be welcoming attendees to Ashburton on Wednesday 10 May.
The 2023 CK Import Export Rising Stars competition was hosted by Waipa NZDFA in Te Awamutu on 25 February 2023. It was a great event with 49 entries received from throughout the country and almost 100 people attending the awards dinner.
- Final call for Industry Positions: nominations close 31 March
- 2023 Awards and Competitions
- 2023/24 NZDFA Membership Invoices
- DINZ Update: Annual Report and new DINZ Board Observer
- Classifieds
- Production Feature: Matin management of hinds
- 2023 Deer Industry Conference, Ashburton, 10 May 2023
- Mark your calendars: 2023 National Velvet & Trophy Antler Competition and 2024 CK Import Export Rising Stars
Back to Industry News