Nov 3, 2022
Noticeboard
Guidelines for Velvet Competitions and Stag Sales
NZDFA, DINZ and the NVSB have developed a set of guidelines for velvet competitions and stag sales - public events that require some consideration of risk for health and safety (including food safety and animal welfare). The group was comprised of John Somerville, Tony Pearse, Murray Coutts, Grant Charteris, Rob Gregory and Lindsay Fung.
These guidelines are now available on the DINZ website at the following address: deernz.org/deer-hub/velvet-and-antlers/health-safety-and-food-hygiene-guidelines-for-velvet-competitions-and-stag-sales >>
Signs that can be printed to A4 sheets are also on the web page.
Please note these are guidelines only (and not compulsory/mandatory) but you may wish to provide these to event organisers in your branch.
REMIDNER: submissions close 10 Nov for the draft Deer Code of Welfare
Submissions on the new Deer Code of Welfare close on Thursday 10 November.
The DFA Executive Committee are putting in a submission and have supported the local branches to put in their own submissions.
We are encouraging farmers to put in submissions as well. If you have yet to do this, a template has been put together to help you out. At a minimum, they need to fill in the highlighted sections, save the document as a PDF and send it to animal.consult@mpi.govt.nz by 5pm on the 10th of November. Please click here to download >>
You can view the draft Deer Code of Welfare at mpi.govt.nz/consultations/proposed-code-of-welfare-for-deer >>
Pricing agricultural emissions - public feedback
The government is now asking for public feedback on its proposed farm-level greenhouse gas pricing system. Both the DFA and DINZ are working on a submissions on your behalf informed by our farmers feedback.
In addition, we ask you to please make your voice heard on the impact this pricing will have on your farm too. Make a submission, there is too much at stake for our industry for any of us to stay silent.
Consultation ends 18th November so head to the link below to make your voice heard:
consult.environment.govt.nz/climate/agriculture-emissions-and-pricing/consultation
Production calendar feature: Velvet Grading Guidelines

With the velvet season in full swing, velvet processors and buyers will be gearing up and grading velvet.
If you've not seen the Velvet Grading Guidelines, there are two chart available to view on the website with details of each grade:
The DINZ office has hard copies. Get in touch if you'd like one for your shed >>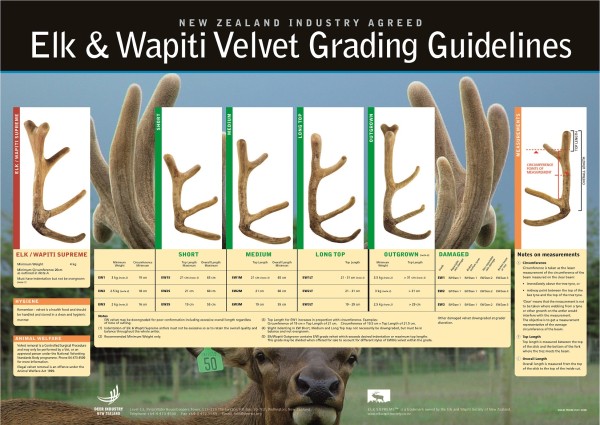 Read more on antler biology at deernz.org.nz/deer-hub/velvet-and-antlers/antlers >>
Reminder: closure of ANZ bank account
The NZDFA ANZ account is NOW CLOSED.
Any future payments must go into the NZDFA BNZ account, please update your records: 02-0506-0268055-000.
A number of NVSB fees have come into the NZDFA accounts. A reminder that these are to be paid to DINZ so please check your invoice for the correct bank account details.
Classifieds
Vet students looking for placement on deer farm
There are a number of vet students looking for placements on a deer farm. If you are able to help once of the following students, please get in touch with them directly.
Kylie Miller - first year student. Contact kyliemiller@outlook.co.nz or 027 879 7887
Jacqueline Ardern - second year student, ideally near Tauranga. Contact jacqueline.ardern@gmail.com
Dominic Rankin - second year student, ideally the Manawatu area. Contact domrankin2002@gmail.com
Joke of the Month
On the first day, God created the dog and said, "Sit all day by the door of your house and bark at anyone who comes in or walks past. For this, I will give you a life span of twenty years."
The dog said, "That's a long time to be barking. How about only ten years and I'll give you back the other ten?"
And God saw it was good.
On the second day, God created the monkey and said, "Entertain people, do tricks, and make them laugh. For this, I'll give you a twenty-year life span."
The monkey said, "Monkey tricks for twenty years? That's a pretty long time to perform. How about I give you back ten like the dog did?"
And God, again saw it was good.
On the third day, God created the cow and said, "You must go into the field with the farmer all day long and suffer under the sun, have calves and give milk to support the farmer's family. For this, I will give you a life span of sixty years."
The cow said, "That's kind of a tough life you want me to live for sixty years. How about twenty and I'll give back the other forty?"
And God agreed it was good.
On the fourth day, God created humans and said, "Eat, sleep, play, marry and enjoy your life. For this, I'll give you twenty years."
But the human said, "Only twenty years? Could you possibly give me my twenty, the forty the cow gave back, the ten the monkey gave back, and the ten the dog gave back; that makes eighty, okay?"
"Okay," said God, "You asked for it."
So that is why for our first twenty years, we eat, sleep, play and enjoy ourselves.
For the next forty years, we slave in the sun to support our family.
For the next ten years, we do monkey tricks to entertain the grandchildren.
And for the last ten years, we sit on the front porch and bark at everyone.
Life has now been explained to you.
Events
'Know Your Number' GHG Workshop - Various Locations
Through 23 November, check here for dates and locations >>
Environmental Award field day - Arawata Farm
Wednesday 9 November 2022, a field day to celebrate John and Mel Somerville winning the 2021 Duncan NZ Environment Award >>
Hawkes Bay 2022 Velvet and Hard Antler Competition
Thursday 17 November 2022, details to come >>
Central Regions & Taihape 2022 Velvet and Hard Antler Competition
Saturday 19 November 2022, the Coach House, Fielding, $5 per entry, dinner $30 for members/$60 non-members, contact Craig Hocken 0274 576 388 or chocken@inspire.net.nz to register (essential) >>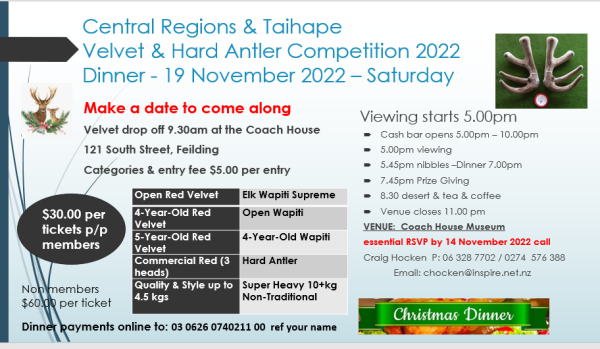 SCNO 2022 Velvet & Hard Antler Competition
Friday 25 November, Phar Lap Racecourse, Timaru, Dinner $50pp book with kiri_rupert@windowslive.com or 027 357 2780 >>
North Island Velvet Competition
Saturday 26 November 2022 at Te Awamutu Race course, Viewing/Dinner 5pm onwards, Entries $35.00 / Dinner tickets $70.00, contact Craig Hocken 0274 576 388 or chocken@inspire.net.nz >>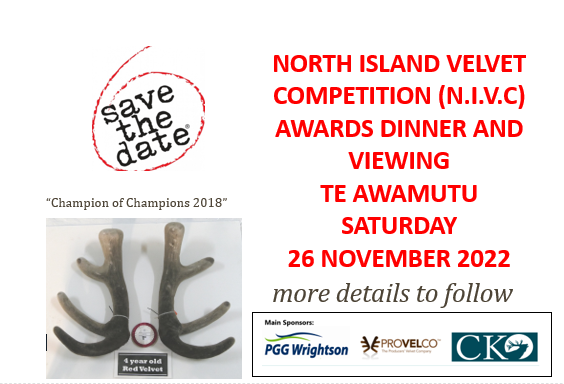 National Velvet and Hard Antler Competition
14-16 December 2022, Ascot Park Hotel Invercargill, awards dinner Friday 16 >>
2023 EWSNZ Velvet Competition
3-4 February 2023, Cromwell, enquires to Grant Hasse elkwapitinz@gmail.com or 027 224 5542 >>
2023 Rising Stars
Will be held at the Racecourse in Te Awamutu on 25 February 2023. All enquiries to Helen Clarke, at campbell.clarke@xtra.co.nz >>
Back to Industry News