Apr 6, 2023
- $118,000 raised for deer farmers
- Landcare Research - Survey of Rural Decision Makers
- MetService Outlook
- Production Feature: Mating management stags
- Joke of the Month
- 2023 Deer Industry Conference, Ashburton, 10 May 2023
- Mark your calendars: 2023 National Velvet & Trophy Competition and 2024 CK Import Export Rising Stars
- MSD/Allflex Deer Industry Photo Competition - 1 week to go!
Noticeboard
$118,000 raised for deer farmers
Last month's auction that was organised by NZDFA (specifically Mark Tapley, Todd Crowley and Kris Orange) was a huge success seeing $118,000 raised for farmers affected by Cyclone Gabrielle.
Funds will be distributed through the NZDFA Branch network. If you haven't already, please get in touch with your local NZDFA Branch as they may be able to provide support or advice and importantly let the NZDFA know of needs to help with the allocation of raised funds.
Local NZDFA Branch chairs' contact details are here >>
More information from the March DINZ eNews >>
Landcare Research - Survey of Rural Decision Makers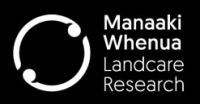 Farmer, forester, grower or lifestyle block owner?
Make sure your voice is included in the next Survey of Rural Decision Makers. Win prizes and contribute to a charity of your choice. Register your details now to receive the 2023 survey via email.
MetService Outlook
Climate Drivers – Southern Ocean driving our weather maps.
La Nina has officially ended. Neutral El Niño Southern Oscillation (ENSO) conditions are expected to persist through autumn, allowing our local climate drivers close to New Zealand to exert their influences through the remainder of autumn into early winter. This includes the Southern Annular Mode (SAM), a measure of Southern Ocean storminess, which point towards continued westerlies for the South Island but interspersed with periods of settled conditions under slow-moving high pressure.
Climate prediction models are increasingly pointing towards El Nino developing towards the latter half of winter and into spring, which would signal a colder and more unsettled spring as frequent southwesterlies spread across the country.
April 2023 Outlook – A mixed bag of weather systems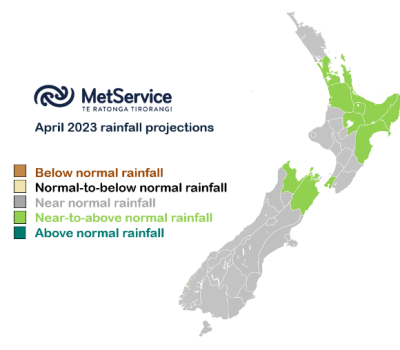 April temperatures are expected to yo-yo, likely ending up on the warmer side of the ledger, overall, for the South Island and lower half of the North Island, but near average for Taupo northwards.
A front crossed over the country during the weekend of 1,2 April, bringing brief rainfall to western regions and a risk of thunderstorms in the north. Generally settled weather follows as high pressure takes hold over the country, with warm afternoons but cooler mornings, and the possibility for frosts before sunrise. A more potent low with accompanying northerly fronts moves slowly onto the country from the south Tasman Sea during week two, and could bring notable rainfall accumulations to the West Coast of the South Island with diminishing amounts elsewhere.
Variability increases from mid-month onwards, as westerly systems become more commonplace again, interspersed with narrow ridges of high pressure. Temperature flips will become more likely as warm northerlies change cooler southwesterlies. The final week of April shows hints of a more southwesterly flavour to the weather maps, which could bring about an increased risk of wintry cold snaps and snow events.
Overall, near normal April rainfall totals are forecast for many regions, with the exception of the northeast of both Islands (with normal to above normal totals forecast).
Bottom Line: A mixed bag of weather systems; from northerly rain to slow-moving highs bringing settled autumn weather, and back into a colder and potentially wintry pattern the back end of the month. April seems to have it all; yo-yoing temperatures and healthy rainfall totals (near normal tallies in most regions).
Production Feature: Mating management stags
For most deer farmers, the principal reason for keeping adult stags on the farm is for their use as sires, for which the most crucial time is the rut (or 'roar'). Sire stags represent a major genetic and financial investment in the herd. There are a number of management considerations around the optimal and safe use of such high-value animals.
Some things to consider:
When should I join stags and hinds for mating?
What is the best ratio of hinds to stags?
Single-sire versus multi-sire mating
Indications of non-performance
What are 'chaser' sires?
Removing stags after the rut?
Mating yearling hinds with yearling stags
Read more on this at deernz.org/deer-hub/breeding/stags >>
Joke of the Month
An Airbus 380 is on its way across the Atlantic. It flies consistently at 800 km/h at 30,000 feet, when suddenly a Eurofighter with a Tempo Mach II appears.
The pilot of the fighter jet slows down, flies alongside the Airbus and greets the pilot of the passenger plane by radio: "Airbus, boring flight isn't it? Now have a look here!"
He rolls his jet on its back, accelerates, breaks through the sound barrier, rises rapidly to a dizzying height, and then swoops down almost to sea level in a breathtaking dive. He loops back next to the Airbus and asks: "Well, how was that?"
The Airbus pilot answers: "Very impressive, but watch this!"
The jet pilot watches the Airbus, but nothing happens. It continues to fly straight, at the same speed. After 15 minutes, the Airbus pilot radios, "Well, how was that?
Confused, the jet pilot asks, "What did you do?"
The AirBus pilot laughs and says: "I got up, stretched my legs, walked to the back of the aircraft to use the washroom, then got a cup of coffee and a pastry."
Events
2023 Deer Industry Conference
Please mark
Wednesday 10 May

in your calendars for a trip to Ashburton.

Registrations are open and more details can be found here deernz.org/home/events
The Branch Chairs will also meet on the Tuesday afternoon, 9 May.
The highlight of the conference will be the awards dinner on the Wednesday evening and will feature presentations to the winners of the Matuschka, Deer Industry, and Environmental Awards as well as announcing the winners of the MSD Photo Competition.
Mark your calendars
2023 41st National Velvet & Trophy Competition
The 2023 Awards Night has been confirmed for Friday 8th of December. Contact southlanddeerbranch@gmail.com for any enquiries.
2024 CK Import Export Rising Stars
Saturday 9th March 2024 in Te Awamutu Hosted by Waipa Branch NZDFA. Early entries will be accepted for the 2024 CK Import Export Rising Stars Competition up until 10th March 2023 for Hard Antler heads not cut before the 2023 Competition. Contact campbell.clarke@xtra.co.nz or 07 873 2785 for any enquiries.
MSD/Allflex Deer Industry Photo Competition - 1 week to go!

A reminder that the 2023 MSD Animal Health/Allflex Deer Industry Photo Competition is open for 1 more week!
Head to deernz.org/home/events/msd-deer-industry-photo-competition to find the entry form and rules.
Gather up those great shots you have buried, or head out on the farm with your camera. With a $500 first place cash prize, you won't want to miss out!
Competition closes 5pm, Wednesday 12 April 2023.
Back to Industry News