Aug 10, 2023
- 2023-24 NZDFA subscription reminders have been sent out via email
- Velvet season reminders
- NZDFA and DINZ change to physical location, postal address remains the same
- Student needing work experience
- Launch of the National Wild Goat Hunting Competition
- MetService Outlook August 2023
- Production feature: Feeding deer – intake requirements
- Joke of the Month
- 2023 October Branch Chairs Meeting, 5-6 October, Wellington
- 2023 North Island Velvet Competition, Awards Night 25 November, Fielding
- 2023 41st National Velvet & Trophy Antler Competition, Awards Night 8 December 2023, Invercargill
- 2024 CK Import Export Rising Stars, 9 March 2024, Te Awamutu
Noticeboard
2023-24 NZDFA subscription reminders have been sent out via email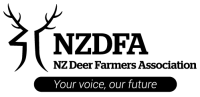 Last week subscription reminders for the 2023-24 NZDFA membership year were sent out via email.
We have had some teething issues with our new programme (Xero) and staff coming up-to-speed, so we thank everyone for their patience while we work through this.
It has also come to light that there have been quite a few subscriptions paid into our old ANZ bank account. Since this account is closed, the money will have been automatically transferred back to your account one or two days later. So if you received a reminder but believe you've paid, please check your account for a refund.
If this is the case, please update our bank account details to:
NAME: NZ DEER FARMERS ASSOC INC
ACCOUNT NUMBER: 02-0506-0268055-00
BANK: BNZ
However, there were a small number of people who would've received a subscription in error. If you know you have already made payment to the BNZ account, please ignore this. We apologise for any inconvenience caused.
If you didn't receive a invoice this year, or would like to request invoices going forward to be sent via post, please email cenwynn.philip@deernz.org
Not a NZDFA member and wondering what they do?
On a national level:
Advocate on behalf of members
Electing Deer Industry New Zealand Board members and appointment members to OSPRI Stakeholders Council, Cervena Trust, and the National Velvetting Standards Body
Regular communication with Deer Industry New Zealand (DINZ)
Running the Next Generation Programme
DFA Stagline
Annual October Branch Chairs Meeting
Environmental Stewardship
OSPRI NZ relationship
NAIT Leader Tags discount
Support with donation
At a local level: Your local branch is your first point of contact for what is happening in the area. Branches support the deer farming industry through various activities including field days, velvet competitions and social events for members and the wider community. They also advocate on behalf of their members and communicate with the Executive Committee and DINZ.
The NZDFA relies on this relatively small subscription to function effectively while continuing to deliver a strong, independent view for the producer at all levels of industry engagement.
Velvet Season Reminders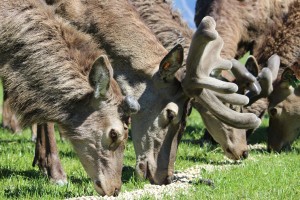 The 2023/24 velvet season is just around the corner and buttons are already dropping in some parts of the country. Below are a few helpful reminders to get you off to the best start.
NVSB
Make sure you pay your NVSB annual fee as soon as possible and by 20 November at the latest, so that we don't have to waste your time chasing you up.

Beat the rush and book your supervisory visit/consultation as soon as you're ready to start removing velvet, so that it's all done before the 15 December deadline.

Order your velvetting drugs and any VelTrak tags well ahead of time, to avoid any possible supply issues.

Have a flick through the NVSB Manual and brush up on deer diseases, the names and locations of antler nerves and how to calculate dose rates (chemical restraint only), as you could be selected for audit and will need to show you know this.
RCS
Check that your deer shed is clean and tidy before the season starts. Velvet is a food product and needs to be removed according to the requirements of the Regulated Control Scheme (RCS) for Velvet Harvest.

Pay special attention to your clean zones, as these will be checked if you are audited.

Make sure your velvet freezer is clean, both inside and out, and can maintain an ambient temperature of minus 15oC.

Once velvet has been removed, it needs to go into a dedicated freezer. It cannot share the freezer with other food products, e.g. dog food or venison for the BBQ.

If you have a walk-in freezer, consider getting it serviced before the start of the season. At the very least, check that the evaporator is clean and working properly.
VelTrak
Log into VelTrak and familiarise yourself with how it works, as all VSDs will still need to be approved this season.

If you have trouble logging in, it might be that your password needs changing. Click 'Forgotten your password?' on the VelTrak homepage, reset it and that should get you going again. If you have any problems, feel free to contact DINZ

Check that your details are still correct and remove any staff who have left since last season, to stop them from accessing your account.

If you have changed farms since last season, you will need a new VelTrak login, as it is linked to the farm that the VelTrak tags have been assigned to. Again, if you have any problems, please drop DINZ a line and we'll help you get sorted.

Make sure you tag all velvet for human consumption with black VelTrak tags and if it won't hold a tag, then tag the bag instead.

Make it easy on your buyer by tagging your velvet at the time of removal. This will also help the tags stick better than if you apply them to frozen velvet at the time of sale.

Approve your VSDs as soon as you get notified by VelTrak (see first point above).
Any queries on the above, get in touch with Deer Industry New Zealand on info@deernz.org or 04 473 4500.
NZDFA and DINZ change to physical location, postal address remains the same
The office for the NZ Deer Farmers' Association and Deer Industry New Zealand has moved. We are now located on Level 4, Wellington Chambers, 154 Featherston Street, Wellington.
Our postal address remains the same: PO Box 10702, Wellington 6140.
Student needing work experience
I'm currently studying a Bachelor of Agriculture Commerce at Lincoln University. For my degree, we are required to do work experience. I'm keen on getting some work experience on a deer farm over the summer of 23/24. If you have an opportunity or any other questions please feel free to email me or phone.
- Ben Allan ben.allen@lincolnuni.ac.nz or 021 024 45025
Launch of the National Wild Goat Hunting Competition
The Department of Conservation and NZ Deerstalkers Association (NZDA) are running a 4 month National Wild Goat Hunting Competition. Running from 1st August to 26th November, it is supported by Federated Farmers and Hunting and Fishing, and there will be national and regional prizes. Maybe you could even make it a branch activity!
Click here to view a flyer with more information or head to doc.govt.nz/wild-goat-hunting-competition. and follow and NZDA on social media to keep up with the latest announcements.
MetService Outlook - August 2023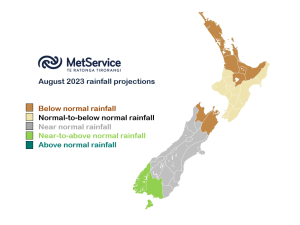 August starts with a bang (as July did), with yet another cold southwesterly outbreak over the next couple of days. Generally stormy and wintry weather with severe westerly winds are possible for many regions of the country, and snow to low levels for the bottom of the South Island. Cold southwesterlies should slowly ease during the second half of this week as a large high pressure system builds across the country from the west. Chilly mornings are in store for many places, as this high locks in the cold through much of next week too, and settled conditions dominate for an extended period.
However, just how strong this high pressure holds will determine how dry it remains around the upper North Island, as some models hint at a wetter interlude around the 10th and 11th of this month due to a north Tasman Sea low. If this low ends up closer to our shores, that could result in a nearer normal rainfall for the upper North Island.
This large, slow-moving high could start to move away to the east around mid-month, opening the door to Tasman Sea and Southern Ocean weather makers again. These westerly features should favour the South Island West Coast in terms of active weather, weakening as they move northwards across New Zealand with rainfall returning to near-normal conditions for much of New Zealand for this time of the year. A few cold outbreaks remain possible during the last couple of weeks of August as well, with late season snow a distinct possibility.
Bottom Line: Unsettled winter weather continues in the short term, with an extended spell of cold and settled weather likely for large parts of the month.

You can sign up for the MetService's Monthly Outlook right to your inbox - click here to subscribe.
Source: www.metservice.com/rural/monthly-outlook
Production feature: Feeding deer – intake requirements
The potential feed intake of animals is determined by physiological state (e.g. pregnancy, lactation, sex) and genetics. The animals' health and the feed offered determine whether the potential is reached.
Key points
The feed requirements of deer differ depending on their age, stage of growth, the season, feed quality, environment and management.
Deer will make nearly 40% of their annual weight gain in spring, so supplying the highest quality pasture is a major priority from as early as late August when the deer growth spurt starts.
Ideally, producers should weigh at the end of autumn, winter and summer to monitor progress.
Read more at deernz.org/deer-hub/feeding/feeding-deer/intake-requirements >>
Joke of the Month
Paddy McCoy, an elderly Irish farmer, received a letter from the Department for Work & Pensions stating that they suspected he was not paying his employees the statutory minimum wage and they would send an inspector to interview them.
On the appointed day, the inspector turned up.
"Tell me about your staff," he asked Paddy.
"Well," said Paddy, "there's the farm hand, I pay him £240 a week, and he has a free cottage.
Then there's the housekeeper. She gets £190 a week, along with free board and lodging.
There's also the half-wit. He works a 16 hour day, does 90% of the work, earns about £25 a week along with a bottle of whisky and, as a special treat, occasionally gets to sleep with my wife."
"That's disgraceful" said the inspector, "I need to interview the half-wit."
"That'll be me then," said Paddy!
Events
Mark your calendars
2023 October Branch Chairs Meeting, 5-6 October, Wellington
Branch Chairs make sure the 5-6 October is marked in your diaries for our regular meet up in Wellington.
If you have anything you'd like discussed, please get in touch with your local branch chair or Producer Manager Lindsay Fung, or Executive Committee Chair Justin Stevens.
2023 North Island Velvet Competition
Awards dinner Saturday 25 November 2023 in Fielding. Entry forms and competition details to come soon. Contact Craig Hocken 0274 576 388 or chocken@inspire.net.nz for any enquiries.
2023 41st National Velvet & Trophy Competition
The 2023 Awards Night has been confirmed for Friday 8th of December 2023 in Invercargill. Contact southlanddeerbranch@gmail.com for any enquiries.
2024 CK Import Export Rising Stars
Saturday 9th March 2024 in Te Awamutu. Hosted by Waipa Branch NZDFA. Contact campbell.clarke@xtra.co.nz or 07 873 2785 for any enquiries.
Back to Industry News