Sep 8, 2023
- 2023-24 NZDFA Membership
- Generation Change
- Classifieds
- MetService Outlook September 2023
- Production feature: Velvet antler growth cycle
- Joke of the Month
- 2023 DINZ Road Trips - 12 September Alexandra and 13 September Winton
- 2023 October Branch Chairs Meeting, 5-6 October, Wellington
- 2023 North Island Velvet Competition, Awards Night 25 November, Fielding
- 2023/24 Stag, Hind and Wapiti Bull Sales
- 2023 41st National Velvet & Trophy Antler Competition, Awards Night 8 December 2023, Invercargill
- 2024 CK Import Export Rising Stars, 9 March 2024, Te Awamutu
Noticeboard
2023-24 NZDFA Membership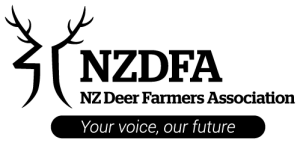 Unfortunately this year our subscription intake has been significantly lower than the previous year.
The NZDFA relies on this relatively small subscription to function effectively while continuing to deliver a strong, independent view for the producer at all levels of industry engagement.
To ensure the NZDFA can continue to function at the same expected level and beyond, please ensure you have made your payment as soon as possible.
It has also come to light that there have been quite a few subscriptions paid into our old ANZ bank account. Since this account is closed, the money will have been automatically transferred back to your account one or two days later. So if you received a reminder but believe you've paid, please check your account for a refund.
If this is the case, please update our bank account details to:
NAME: NZ DEER FARMERS ASSOC INC
ACCOUNT NUMBER: 02-0506-0268055-00
BANK: BNZ

However, there were a small number of people who would've received a subscription in error. If you know you have already made payment to the BNZ account, please ignore this. We apologise for any inconvenience caused.
If you need a new copy of your invoice or would like to sign up, please get in touch here at nzdfa@deernz.org
Generation Change

Young women, bringing purpose to food & fibre.
The primary sector of the future will be a place for new ideas and modern thinking. To get there, we need collaborators, innovators and Kaitiaki for our land, water and wildlife. We need people driven by purpose.
But we get it. As a young woman in tertiary study or training, or in the first few years of your career, finding the first step to meaningful work, and making the right connections, can be hard.
That's why Agri-Women's Development Trust (AWDT) are delivering Generation Change – a one-day workshop and ongoing mentoring programme to help you bring your true self to the sector.
The next workshop is scheduled for Monday 2nd October at Wintec in Hamilton.
The programme has 5 sessions:
Reflecting on you – connecting with your strengths and values.

Defining what positive impact means to you.

Planning your first steps towards a life of meaningful work.

Stories to inspire - personal primary sector journeys and a glimpse into the future of work.

Gathering allies - connecting with your mentor and networking with progressive people across the sector – from farmers to food system builders, product developers, marketers and more.


Visit awdt.org.nz/programmes/generation-change-2 for more information on the progamme and to register >>
Classifieds
Vet student looking for deer experience
Agostina Chloé Petrinelli from Argentina is a vet student completing her last year remotely. She is looking for a job to gain experience in deer. If you have an opportunity for her, please get in touch direct via email agostinapetrinelli@hotmail.com or phone 027 338 2164.
Vet Student looking for placement
Tui Murray-Pyle is a first year vet student looking for a placement on a deer farm in January. If you have an opportunity for her, please get in touch direct via email tui.murraypyle29@gmail.com.
Japanese student looking for work on deer farm
Ayaka Takafuji is studying towards a masters in agriculture at Kagoshima University in Japan. She is looking for a job on a deer farm for 3-6 months from February 2024. If you have an opportunity for her, please get in touch via email K2196278@gmail.com.
MetService Outlook - August 2023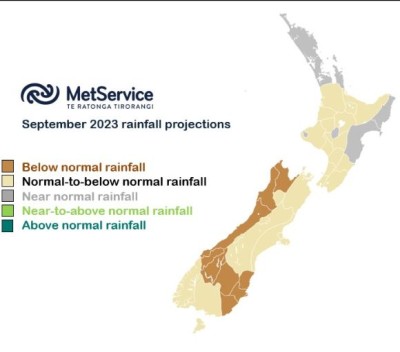 Spring begins with a subtropical low driving southwards across the upper North Island, with heavy easterly rain likely for those regions. Meanwhile, high pressure reigns supreme further south with below average rainfall likely over the South Island. Temperatures should trend well above average in the north, while southern regions see cold and frosty mornings followed by pleasant afternoons under largely blue skies.
The second week of September sees high pressure depart eastwards, which allows a build-up of westerly fronts to sweep across the country. These features will generally be quick-moving, with most regions seeing near-average rainfall and temperatures. However, the southern part of the South Island may trend slightly drier (and warmer) as weak ridging attempts to build in-between the fronts.
A weak low pressure anomaly returns across the South Island and part of the North Island during the third week of the month, indicating a slightly more active southwesterly weather pattern. An uptick in quick-moving fronts bringing bursts of heavy rain, wind and potentially late-season snow about higher-levels is possible, along with temperatures trending a bit below average with a possible cold snap. This anomaly moves offshore during the final week of the month, with New Zealand likely to see a mix of weak westerly fronts and drier weather. Cool mornings are likely to persist as the month of September comes to an end.
Bottom Line:
A mixed bag of weather systems to start the month, trending towards cooler southwesterlies for the final fortnight.

You can sign up for the MetService's Monthly Outlook right to your inbox - click here to subscribe.
Source: www.metservice.com/rural/monthly-outlook
Production feature: Velvet antler growth cycle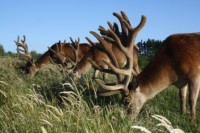 Antlers grow annually from the pedicle of the frontal bone of male deer. They are male secondary sexual characteristics, hence are only grown by stags, although in the wider Cervidae family, they also grow in female reindeer (also known as 'caribou' in North America). Antlers are quite unlike the horns of cattle, which do not regrow if removed correctly. Antlers also develop and mature in a manner different to horns and broadly two stages of antler development are recognised: velvet antler and hard antler.
Velvet antler is defined as growing antler which contains an abundant blood and nerve supply and which has a fully intact skin with a covering of soft fine hair. Hard antler is the antler when growth has ceased, calcification has occurred, and the skin, nerve and blood supply are no longer functional.
Key points:
Velvet antlers grow very rapidly, at a rate of up to 2cm a day.
The male deer of most species develop a pair of antlers every year from bony outgrowths called pedicles.
In respect of dominance, the stag with the largest antlers tends to be dominant.


Read more atdeernz.org/deer-hub/velvet-and-antlers/antlers >>
Joke of the Month
Things to ponder 🤔
What if my dog only brings the ball back because he thinks I like throwing it?
If the poison expiration date is past, does that mean it's less or more poisonous?
Which letter in "Scent" is silent. is the S or the C?
Do twins ever realize that one of them is unplanned?
Why is W pronounced "double U" instead of "double V"?
What if oxygen is killing you & it just takes 75 to 100 years to work?
Every time you clean, you make something else dirty.
100 years ago, everyone had a horse, only the rich had a car. Today everyone has cars & only the rich have horses.
If you replace the "W" with a "T in "What, Where & When", you would have the answer to each one.
If you rip a hole in a net, you have less holes than you started with.
Events
If you have a velvet and/or hard antler competition coming up, please email nzdfa@deernz.org with details and we will add it to the list below and the events section of the website.
Mark your calendars
2023 DINZ Road Trips - Otago and Southland
Join DINZ staff and board members for an update on deer industry activities. Marketing company representatives will also provide updates on the new season outlook and Chef Graham Brown will serve up some delicious venison creations for a light supper. Registrations open now!
Alexandra: Tuesday 12 September, 3-7pm, Alexandra Bowling Club, register here >>
Winton: Wednesday 13 September, 4-8pm, Winton Golf Club, register here >>
2023 October Branch Chairs Meeting, 5-6 October, Wellington
Branch Chairs make sure the 5-6 October is marked in your diaries for our regular meet up in Wellington.
If you have anything you'd like discussed, please get in touch with your local branch chair or Producer Manager Lindsay Fung, or Executive Committee Chair Justin Stevens.
2023 North Island Velvet Competition
Awards dinner Saturday 25 November 2023 in Fielding. Entry forms and competition details to come soon. Contact Craig Hocken 0274 576 388 or chocken@inspire.net.nz for any enquiries.
2023/24 Stag, Hind and Wapiti Bull Sales
Calendar of upcoming sales for December 2023 and January 2024 >>
2023 41st National Velvet & Trophy Competition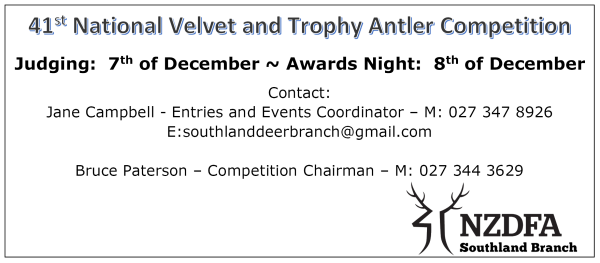 The 2023 Awards Night has been confirmed for Friday 8th of December 2023 in Invercargill. Contact southlanddeerbranch@gmail.com for any enquiries.
2024 CK Import Export Rising Stars
Saturday 9th March 2024 in Te Awamutu. Hosted by Waipa Branch NZDFA. Contact campbell.clarke@xtra.co.nz or 07 873 2785 for any enquiries.
Back to Industry News