Apr 8, 2022
Updated Covid-19 advice from Deer Industry New Zealand
Deer Industry New Zealand remains committed to providing a safe working environment for staff and guests. DINZ will encourage all staff and contractors to maintain vaccination status as recommended by the Ministry of Health. Deer Industry New Zealand encourages all members of the deer industry community to keep up with vaccinations against the Covid-19 virus as recommended by the Ministry of Health. DINZ will apply guidance on events as prescribed by the Ministry of Health. To this effect, DINZ will no longer require visitors to the DINZ office to be vaccinated.
For DINZ convened events we encourage good hygiene and a continuation of attendees staying away if they exhibit any cold or flu-like symptoms. We encourage mask wearing and following the Covid-19 Protection Framework (traffic light) settings provided by the government. People should adhere to medical advice if they have recently tested positive for Covid-19.
Entry for any DINZ event will be determined by the venue host. Individual businesses are free to determine if they will allow non-vaccinated people onto their premises. DINZ will respect the decisions of these venues. DINZ will not require attendees to be fully vaccinated to attend a DINZ convened event.
NZDFA now banking with BNZ
Make sure you have the new account details for the NZDFA for when you make your membership subscription payment later in the month.
Please update payment details for the NZDFA to:
02-0506-0268055-000 (BNZ)

Please delete any saved payment details for the ANZ account.
A reminder that cheques are no longer accepted and for any payment to DINZ (e.g. NVSB or levies) is to 02 0506 0234007 000 (also BNZ).
P2P Update

Work is continuing on a new and enhanced P2P programme and an application for some new funding. Current joint funding finishes at the end of September this year. Both DINZ and the DFA are looking at the opportunities for a new programme to work even more closely together, with regular catch ups happening with the DFA executive committee.
We have a survey underway by Cinta research company at the moment with all deer farmers. This is largely repeating the surveys completed in 2011, and 2017 so we can get some trends over time. In the past these surveys have been helpful to tap into the current needs of deer farmers and we value the investment of farmers time to complete the survey.
Detection of Fall Armyworm in New Zealand
Last month a single egg mass belonging to Fall Armyworm was detected in Taurunga. Fall Armyworm is a pest that has been actively spreading across most of the world in the last few years and arrived in Australia in 2020. It can spread long distances and we have been prepared that it can arrive in New Zealand hitchhiking on prevailing winds.
As part of our ongoing engagement under the Government Industry Agreement on Biosecurity, DINZ is working with MPI, and the other primary sectors, to ensure appropriate actions are taken to protect deer farmers from the impact of this Unwanted Organism. Fall Armyworm is a relative to Tropical Armyworm that is already present in New Zealand. However, as Fall Armyworm requires higher temperatures to survive, it is not expected to establish in New Zealand.
More info can be found at MPI:
Joint efforts underway after unwanted pest detected in Tauranga | NZ Government (mpi.govt.nz)
2022 Primary Industries Awards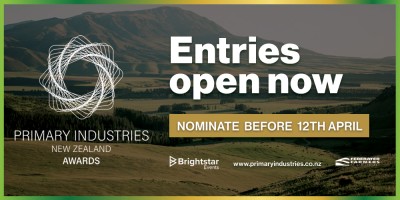 Celebrate the success of those working and contributing to the New Zealand Primary Industries Sector.
Entry & Submission Deadline: 12 April with the finalists announced on 25 May. Ceremony with dinner takes place on 6 July 2022.
View the categories and criteria here >>
Farm without Harm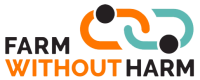 Farm Without Harm is a sector wide strategy (coordinated by Safer Farms) and commitment by farming leaders to draw a red line under our sector's high harm rates.
For the Farm Without Harm strategy to work, it needs to reach past the boardroom and into paddocks and yards of rural New Zealand. They need the input of food & fibre people like you to ensure their action plan is relevant, practical and something everyone get behind.
To help them design the Farm Without Harm strategy, they're asking those who have yet to participate in a strategy co-design session to visit the holding page, review the draft strategy and complete a short feedback survey.
Control the roll

Taking steps to protect staff and loved ones from serious injury is a top priority for most farmers around the country. Crush protection devices (CPDs) create a gap between a quad bike and the ground during a roll over and absorb the weight of the bike instead of the rider.
Fitting a CPD on a quad bike gives you some control over the outcome of a roll over and gives you a 'space for survival' to crawl out or call for help.
Safer Farms, ACC and Worksafe strongly recommend the use of CPDs on quad bikes.
ACC is currently offering farmers a $180+GST cash back on the Quadbar, Quadbar flexi and ATV Lifeguard crush protection devices.
You can redeem the cash back on up to two selected CPDs. Eligibility criteria applies.
Second year vet looking for a placement
I am a second year vet student at Massey university in Palmerston North. [I am looking for] deer farmers willing to have me with them for two weeks of practical work. Ideally farms that are around the Manawatu region. I could do either both weeks during the Easter two-week uni break, or one week then and another week later in the year.
Hoping you can help me.
Many thanks,
Rebecca Nesdale
If you think you can help Rebecca, please get in touch with her on rebeccanesdale@gmail.com
MetService Monthly Outlook - April 2022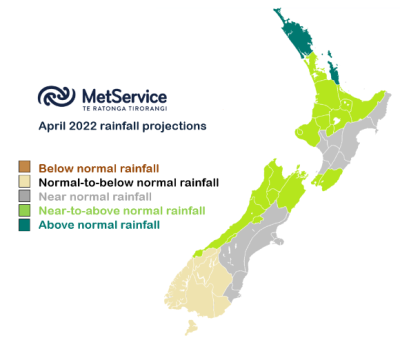 High pressure dominates the weather maps in early April, bringing mostly dry conditions across Aotearoa New Zealand. A weather system from the Tasman Sea is forecast to move onto the South Island from the 5th, though rainfall may be welcome, accumulations are unlikely to significantly impact the ongoing drought across Southland, Otago, and Queenstown. When the South Island weather system reaches North Island shortly afterwards, it will bring a couple of showery days and little more. From around the 8th, tropical activity near Vanuatu may grab the attention of MetService expert meteorologists who will keep a close eye on any potential developments and their significance for New Zealand. Whilst this has the potential to deliver heavy rain, with strong high pressure across the country, we may see any advance from the tropics diverted away from our shores. This late season potential storm increases the uncertainty in the outlook and creates a potential split in the forecast path. Whilst the high may well be eroded from the north, the Southern Ocean looks likely to become more active at the same time. If this scenario wins out, then it would herald the onset of a spell of westerly mobility for South Island. We may see a series of fronts move through in quick succession, but with diminishing returns as they head further north. The second half of April should see the return of high pressure in the Tasman Sea, limiting further rain to minor southwesterly showers or cold fronts. It also looks likely to hold any further Tasman Sea rainmakers at bay.
Bottom Line:
A game of two halves, with warmer and potentially wetter weather giving way to a cooler and drier fortnight to end the month.
You can sign up for the MetService's Monthly Outlook right to your inbox - click here to subscribe.
Source: www.metservice.com/rural/monthly-outlook
Back to Industry News