Jun 3, 2022
P2P programme - CINTA survey
A

big thank you of you who participated in our recent Cinta survey which DINZ completes as a part of the P2P programme. We heard from 600 deer farmers across the country and the insights are so valuable to help provide what you need. This survey is the third we have completed since 2011 and will give us a measure of our progress as well as new insights.
That analysis is underway now, and we'll report on the findings in more detail, and I also want to let you know that as a thank you for your participation we are making a donation to the Rural Support Trust for every completed survey.
- Phil McKenzie, Manager, Farm Performance DINZ
Farmer Expertise sought for Master's Research
My name is Caitlin and as part of my Master's Research this year, I am gathering farmer expertise in rural wetland restoration via a short survey.
For this, I am seeking responses from any farmers in the South Island, who have undertaken or are in the process of undertaking a wetland restoration project on their property.
From the information gathered in my survey, I am going to develop a rural wetland support tool, that will aid farmers in managing and restoring wetlands on their properties. This tool will showcase the range of different ways rural wetlands can be managed and restored by landowners, to benefit both farming and ecological values.
No personal information will be collected, and every attempt will be made to ensure that each project will not be identifiable.
The survey can be found online by clicking on the link below:
https://v5m3aungaqb.typeform.com/to/sMyXbrNE
Alternatively, I am happy to offer this survey on the phone, or in person.
Caitlin Daley, 021 262 9621
Pathways into Primary Industries (PIPI) programme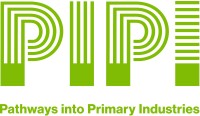 Primary ITO has launched PIPI, an opportunity to connect employers who have vacancies in their team with people eager to start their career into the industry. It's all about making the connections to secure futures for New Zealanders and our industries. PIPI is the support you need for the outcomes you want. Visit www.pipi.ac.nz to find out more, and to register your interest.
MetService Monthly Outlook - June 2022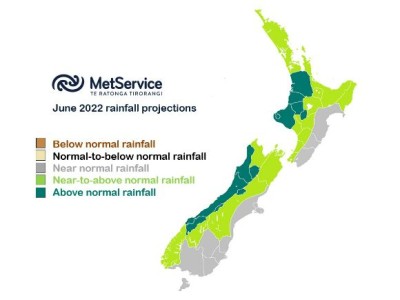 A seemingly never-ending series of westerly weather makers from both the Tasman Sea and Southern Ocean brings a volatile and wet start to June and the winter season across Aotearoa New Zealand. Tasman lows should continue to bring healthy rain events and spells of very warm and muggy weather to much of the country over the first half of June, with brief interludes of cooler weather and southerlies as passing Southern Ocean cold fronts sweep quickly up the country.
The third week of June sees the lows depart eastwards, and a gentle uptick in daily sunshine hours most places. Temperatures drop as southwesterlies spread over the country, with noticeably cooler daytime temperatures. A useful start to the ski season is also signalled. This is followed by a well-deserved spell of high pressure and drier weather, though also accompanied by dips in overnight temperatures.
As we head into the final week of June, the northern Tasman Sea becomes more active as the negative IOD event takes hold. Warm northerlies and the potential for rainfall returns across North Island with a low developing further north, while South Island is unlikely to see significant impacts with a more seasonable weather pattern picked to finish out the month.
Bottom Line: The first two weeks of June will remain volatile, with a mix of warm Tasman Sea northerlies and brief Southern Ocean cold spells. Low pressure fades away to the east during the latter half of June as high pressure shows face (albeit briefly), before a return to northerly rain makers by the end of the month.
You can sign up for the MetService's Monthly Outlook right to your inbox - click here to subscribe.
Source: www.metservice.com/rural/monthly-outlook
Classifieds
Raroa Deer Farm is looking for a Farm Manager
Raroa Deer Farm is located in Cambridge, Waikato and is looking for a new Farm Manager.
This is an opportunity to use your knowledge of the deer farming and velveting industry in a hands-on, role. The Farm Manager will have specific responsibility for the day-to-day management and operational tasks on the property to ensure the business objectives for the farm are achieved. The property has a strong emphasis on stud stock and deer velveting, therefore the Farm Manager must display a passion and understanding for deer farming/breeding programmes.
FURTHER INFORMATION
Applications close Sunday 19th June 2022
Click here for the job information pack or contact Rural Directions on 06 871 0450 (Ref# 917261).
OSPRI is seeking an additional Director
OSPRI is seeking an additional Director, to broaden and deepen the Board's skills and experience.
OSPRI is the lead biosecurity agency for New Zealand's animal industries, jointly owned by DairyNZ, Beef+Lamb NZ and Deer Industry NZ. Currently, OSPRI's operations include managing the National Animal Identification and Tracing (NAIT) and TBfree programmes, which are jointly funded by OSPRI's owners and the Ministry for Primary Industries.
For more information, click here or contact Stakeholders' Council Chair – Dr James Buwalda on james@innovationstrategy.co.nz or 021 678318.
Applications should be submitted by 8 June 2022.
Back to Industry News