Apr 8, 2022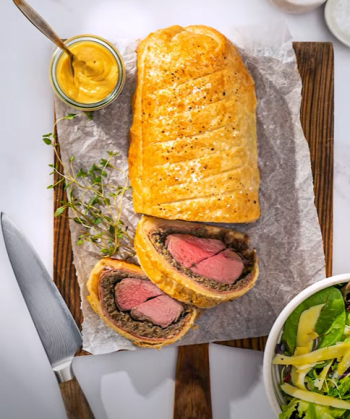 Venison Wellington is a seared venison tenderloin that has been covered with Duxelles (a mushroom mix), wrapped in prosciutto and pastry and baked to perfection. Follow our step-by-step guide to master this delicious classic.
Prep time: 60 mins
Cook time: 75 mins
Serves: 6
Ingredients:
1kg New Zealand farm raised venison tenderloin
1 tbsp olive oil
Salt and pepper
¼ cup Dijon mustard
10–12 slices prosciutto
4 sheets puff pastry, thawed if frozen
1 egg, beaten
Duxelles:
1 tbsp butter
2 shallots, peeled and halved
3 garlic cloves, peeled and roughly chopped
650g button mushrooms, roughly chopped
1 tbsp Superb Herb thyme, finely chopped
Method:
Preheat the oven to 200°C.
Let the venison come to room temperature, dry with a paper towel, tie into a roll with butcher's twine, brush with oil, then season with salt and pepper. Heat a large heavy-based frying pan on high heat. Once hot, sear the venison for 3 minutes on each side, including the tenderloin ends. Transfer to a chopping board. Let cool while you make the duxelle.
Make the duxelle: Add shallots, garlic and mushrooms to a blender and pulse until finely chopped. Add butter to a large heavy set pan over medium heat. Add mushroom mix and cook, stirring often, for 20 minutes, until the liquids have evaporated and it forms a chunky paste. Stir in thyme, season with salt and pepper, and let cool completely.
Remove butchers twine from venison and brush venison liberally with mustard.
On a large piece of cling film (or two layered pieces) lay the prosciutto, overlapping to form a square. Spread thinly with Duxelles mix then place the venison tenderloin on, roll up tightly and place in the fridge to chill for 20 minutes.
Unroll the 4 pastry sheets on a sheet of baking paper in a giant square and connect the sheets of puff with a rolling pin (or doubled overlapping baking paper). Remove and discard the cling film from the prosciutto roll and place in the middle of the pastry. Fold the pastry over the venison to cover completely. Trim the pastry if needed. Tightly roll the prepared venison Wellington in cling film and place in the fridge for 20 minutes.
Remove and discard the cling film and place the Venison Wellington on a lined baking tray. Brush with beaten egg, sprinkle with salt, make some slits on top of pastry for the steam vent and bake for 40 minutes, until the pastry is golden brown and the internal temperature of the venison reaches 57°C (for medium-rare).
Rest for 20 minutes, then place venison Wellington on a serving platter or chopping board, slice and serve whilst warm with your favourite sides.
Back to Industry News