25 November 2023 – Feilding Manfield Park
CALLING ALL NORTH ISLAND VELVET & HARD ANTLER GROWERS
As you begin to cut this season's velvet, please consider keeping back your best heads to support and enter them in this year's NIVC competition.
The 2023 North Island Velvet & Hard Antler Competition awards dinner is on Saturday 25th November 2023. Please book your dinner by 17th November.
The viewing and awards dinner will be held at the Manfeild Park Stadium, 59 South Street Feilding. Viewing is from 5:00pm – 6.15pm and the Awards Dinner commences at 6.45pm. This year's awards dinner will be a joint Central Regions / Taihape and the North Island Velvet Competition.
Velvet & Hard Antler needs to be in your local collector's hands for delivery to the competition by Wednesday 22nd November 2023 no later than 5.00pm. See local collection contacts below. Note payments for entries must also be paid by 22nd November 2023.
Entrants:
Entry forms will be posted out to all previous entrants.
If you have not entered before and would like an entry form or other competition details, please contact Craig Hocken; or keep an eye on this page and download a PDF for printing or a Word document for emailing to enter.
All entry and dinner booking enquiries to: Craig Hocken: 027 457 6366 or email chocken@inspire.net.nz
The following for your local Coordinators for velvet & hard antler collection:
Contacts: Central
Regions
(Wellington, Manawatu,
Wanganui, Taihape and Taranaki):
Craig Hocken – 06 328 7702, 027 457 6388
email: chocken@inspire.net.nz
Hawke's Bay, Gisborne, Wairarapa:
Grant Charteris – 027 230 8531
email: grantcharteris@gmail.com
Te
Awamutu/Waikato–King
Country:
Ross Moore – 07 888 1449, 022 059 9005
Email: rmmoore@farmside.co.nz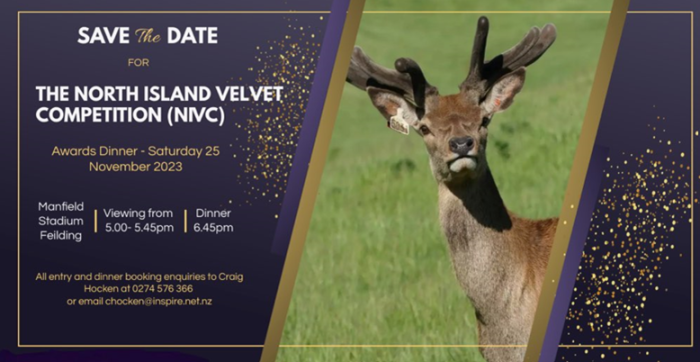 Thank you to PGG Wrightson, Provelvo Coop and CK Import / Export for being our main sponsors again this year. Good luck to all entrants and hope you can make the awards dinner for a great entertaining night out. Dinner tickets only can be booked via an entry form price tbc per person or direct with Craig Hocken email: chocken@inspire.net.nz