Aug 21, 2023

Click a heading below or scroll down to read
Main
In Brief
Pragmatic emissions reporting is needed before ETS start
Agricultural emissions reporting and pricing should only happen once appropriate and pragmatic reporting and mitigations are available for deer, beef and sheep farmers to use, says DINZ.
DINZ and Beef + Lamb NZ (B+LNZ) jointly submitted their thoughts on the Government's latest proposal to defer the start of New Zealand Emissions Trading Scheme activities from 1 January 2024 to 1 January 2026 to the Ministry for Environment (MfE) last week.
While supportive to defer, DINZ strongly believes two years is not enough time to design and establish an appropriate and pragmatic system for reporting, explains DINZ policy and research manager Emil Murphy.
Reporting, and ultimately pricing, should only be implemented, the bodies' argued, once there is: 1) a monitoring system that is practical to administer, cost-effective and of benefit to a farmer's business; 2) a system that includes adequate support and resources to ensure efficient and effective use; and 3) decision making in partnership with the sector.
The two farmer-levy-funded organisations' position that, "pricing is not an appropriate tool to reduce emissions," was also reiterated, says Murphy.
"A poorly designed or implemented reporting system will have a significant impact on the viability of extensive farm systems – especially for deer which lack any practical tools for mitigating emissions."
DINZ and B+LNZ also took the opportunity to repeat their opposition to pricing agricultural emissions. There should be "strong consideration of the sector's progress towards emissions targets" – the sector will likely hit the 30 percent by 2030 target, regardless of any pricing mechanism, they said – and that there should be "full recognition and reward for sequestration taking place on-farm."
The Climate Change Commission will review agricultural emissions targets in 2024. DINZ maintains it should be looking at the warming impact of emissions rather than gross emissions.
Read the DINZ-B+LNZ Submission to MfE on the Deferral of NZ ETS Reporting Obligations for Animals-Farmer Activities >>
Heads up for the 2023-2024 velvetting season
As October approaches, DINZ is sending out reminders to deer velvetters so they can put their best feet forward for the new 2023-2024 season.
National Velvet Standards Body (NVSB) fees will need to be paid before 20 November at the latest, velvetters are being advised. Other recommendations are to book the supervisory visit/consultation as soon as they are ready to remove velvet – so it's all done before the 15 December deadline – along with ordering velvetting drugs and VelTrak tags well ahead of time. The NVSB manual is required reading too, to brush up on the knowledge an audit will require, such as deer diseases, the location and names of antler nerves and calculating chemical restraint dosage rates.
Clean and tidy sheds and freezers are also required under the Regulated Control Scheme for Velvet Harvest (RCS) for the production of a food product. The dedicated velvet freezers must be clean inside and out and able to maintain an ambient temperature of -15°.
Maintaining the integrity of VelTrak, the deer industry's traceability scheme for deer velvet, is vital. Black VelTrak tags will be required on all velvet for human consumption. Velvetters are being reminded these stick better at time of velvet removal, rather than applied to frozen velvet at the time of sale.
Velvetters can start getting ready now by downloading the Farmer VelTrak manual and logging in to VelTrak to remind themselves how it all works, as well as checking their details are correct, as all Velvet Status Declarations (VSDs) still need to be approved this season.
Any queries, contact DINZ on info@deernz.org or by phone on 04-473 4500.
Read up on best practice in the Velvet Antler Removal Deer Fact>>
DINZ and NZDFA working with government on CWD readiness
The deer industry's first agreement under the Government Industry Agreement (GIA) framework was signed in Wellington last week.
DINZ, the NZ Deer Farmers Association (NZDFA) and Ministry for Primary Industries' Biosecurity New Zealand have been working together on an operational agreement focused on the sector's readiness for response to an outbreak of the Chronic Wasting Disease (CWD) in deer here.
While a remote possibility for this country, the disease has been expanding in North American and North Scandinavian deer populations and it is vital to keep it out of this country, where it would wreak havoc, explains DINZ policy and research manager Emil Murphy.
"Good biosecurity is a key underpinning of maintaining good animal health," he notes.
The operational agreement includes plans for how industry and Government would respond together if required, with the industry's role in decision-making "hard-wired in", says Murphy. Activities will be funded jointly by government/industry.
"This is especially important in light of the fact that the recent outbreak in Fennoscandia – Finland, Sweden and Norway – where the contagious form of CWD seems to be unrelated to North American CWD and is not as a result of infection spreading from there," he notes.
"As we get better tests, we are also more likely to pick up atypical, or non-contagious, cases, and we need to be prepared to deal with those."
In remarks at the signing, NZDFA Chair Justin Steven extended his, and deer farmers' gratitude for the work that front line biosecurity staff do, often without much recognition.
Read more in the Exotic Diseases Deer Fact >>
Watch this video about CWD in reindeer >>
Thinking of taking your deer indoors?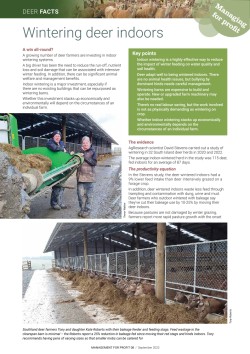 A growing number of deer farmers are wintering their deer – especially their stags – in wintering barns. It's a highly effective way to reduce the run-off, nutrient loss and soil damage that can be associated with intensive winter feeding. In addition, there can be significant animal welfare and management benefits.
On the other side of the ledger is the cost. Indoor wintering is a major investment, especially if there are no existing buildings that can be repurposed as wintering barns. New or upgraded farm machinery may also be needed.
Whether this investment stacks up economically and environmentally depends on the circumstances of each individual farm.

For farmers thinking of taking their deer indoors, DINZ has published a Deer Fact 'Wintering deer indoors'. This is supported by an analysis of the capital and operating costs of indoor wintering by AgResearch scientist David Stevens, along with a list of pros and cons, here >>

The printed copy of the Deer Fact will be circulated with the spring edition of Deer Industry News, due in mail boxes late this month.
Deer prefer single to mixed pasture swards, study finds
Deer prefer, and do well on, a range of single species crops, compared to a mixed pasture sward, Lincoln University research has revealed.
The behavioural insight was gained as part of a recent Lincoln University study, led by Dr Anita Fleming and supported by Agricom, DINZ and AgResearch.
The study was looking at how the chemical compounds – phytochemicals – in different forage mixtures transfer from the plants to the animals and what effect it has on the venison.
Thirty mixed-sex yearling deer were finished on three different pastures: a traditional perennial ryegrass and white clover mix; a multi-mixed sward of 23 different forage varieties; or five separate strips of different monoculture species – ryegrass, lucerne, chicory, plantain and red clover.
The study found the separate strips created differences in venison composition, compared to the traditional or mixed pastures.
"A number of lipids and semi-polar metabolites do appear to differ based on how pasture is presented to livestock," they reported.
In addition, the monoculture strips "improved liveweight gain compared with the traditional or multi-mixed swards, particularly during early summer, when chicory, lucerne and red clover maintain a high-quality diet and high digestibility."
"What was most interesting was that the deer didn't particularly like the mixed swards, they much preferred the monoculture strips, where they could move across, eating what they felt like eating," notes DINZ policy and research manager Emil Murphy.
Read a poster summary of 'Plant phytochemistry and its ability to enhance NZ venison production' here>>
DINZ restructure nears completion
The DINZ restructuring to future-proof the organisation is nearing completion, with all of the roles now filled in the new staff chart.

The restructure has seen the departure of five full-time staff, the reassignment of five existing staff members to reflect the sector's future needs and the appointment of three to brand new roles, some of which are now part-time, reflecting the more focused delivery of DINZ services. Most recently, a new environmental stewardship manager has been appointed to replace Sara Elmes, who is now project manager industry capability. Luka Jansen is expected to start with the team later this month from Horizons Regional Council.
Four senior leadership roles, three of which are familiar faces, now report to DINZ chief executive Innes Moffat. These are: markets manager Rhys Griffiths; policy and research manager Emil Murphy; producer manager Lindsay Fung; and industry capability manager John Ladley.
The team has been sad to farewell Rob Aloe, Solis Norton, Phil McKenzie, and Nick Taylor over the year, and Rob Gregory will be leaving at the end of the month, says Moffat.
Following the move to new and smaller office space for the condensed team, DINZ's focus now is on improving systems to make better use of technology to manage projects and communications with deer farmers and the people who influence how deer are farmed, and how the sector's products are marketed.
While the changes "won't happen overnight," Moffat is reassuring deer farmers of the commitment to implement change, "with minimal disruption."
To see who's where, check out the new DINZ organisational structure here >>
Introducing: DINZ assistant markets manager Virginia Connell
New assistant markets manager Virginia Connell is "thrilled" to have joined the DINZ team on 14 August, in a brand new position – reflecting the changes after the disestablishment of the venison marketing manager's role.
Based in Wellington, she will be working on velvet and venison market development activities and will be in contact with venison and velvet farmers, processors and marketers. Among other things, she will maintain marketing materials, including DINZ websites and social media accounts, databases, market analysis and reporting.
It was the possibility of stakeholder engagement that first "tickled her fancy" in the DINZ job, which involves "a lot of my interests" and which she expects will keep her really busy.
No stranger to farm life, the Outdoor Education and Sustainability graduate, grew up in Whitianga in the Coromandel on a smallholding with horses, an animal she loves, helping out on dairy farms and with sheep during the holidays. She has also worked on farms with deer, which she found "quite horselike in a lot of ways," and many of her friends hunt deer.
After graduation from CPIT, the 30-year-old livewire spent seven years working in Australia. There she gained experience in hospitality and events, adventure tourism with an Outback horse trekking company – which involved her developing a Western-style mini-tour involving mustering on horseback – and, most recently, managing a smallholding with horses and an Angus Beef herd.
SHORTS
EVENTS
Click on the bold links below to get more information about any of the events.
Back to Industry News