Nov 17, 2023

Click a heading below or scroll down to read
Main
In Brief
Silver Fern Farms held major customer conference at Anuga
For the first time in four years, Silver Fern Farms was able to hold its customer conference at Anuga 2023 in mid-October, on the opening night of the massive trade show.

The food company hosted more than 50 buyers from the UK, Middle East and China, alongside those from Europe, updating them on its global strategy, New Zealand's production systems and the new season, reports the company's global sales operation manager Glen McLennan.
During the presentations, McLennan talked about the industry's and Silver Fern Farms' venison diversification strategy to move away from Europe to the US and China in a bid to balance markets.
"We're pleased with the investment and progress we've been making with new products, new customers and new segments," he told the buyers. "It's a good success story for us where we are continuing to see growth."
The strategy and development is helping Silver Fern Farms and the rest of the industry, "start to walk away from the commodity-driven cycles and to something that's more consumer-led and premium that gives sustainable returns to our farmer partners, us and our in-market partners," he explained.
Four years ago, China demanded 10 percent share of Silver Fern Farm's venison sales, this year it was at 23 percent, McLennan reported. In the US, there had been further development of venison items for manufacturing and the one-pound packs of venison mince had been selling well on Silver Fern Farms US e-commerce platform.
Six Chinese chefs heading to 'The Ends of the Earth'
Six top Chinese chefs will arrive in New Zealand in a couple of days for an 'Ends of the Earth' culinary adventure. Co-funded by a group of exporters, including DINZ, the collaboration will showcase the best of New Zealand to influential foreign customers.
Arriving on 20 November for their six-day experience in six locations – the number is considered lucky in China – are: Chris Zhu, head chef for the BLAZ bistro in Shanghai; Mae, a silver award-winning chef from the Shanghai International Elite Culinary Competition; Jack Li, assistant director of culinary at the W Hotel in Suzhou; Jiayi Huang, chef/owner of the Little Catch restaurant in Shanghai; Dan Li owner/chef of Yaya's; and Xijin Wu, culinary director at Pinyueting.
With China's foodservice sector recovering, the opportunity was taken to re-engage with China-based chefs and showcase this industry's products in the emerging market for New Zealand venison, explains DINZ assistant market manager Virginia Connell.
She is fine-tuning the deer industry's arrangements for the group, that will be accompanied by representatives from Shanghai-based agency Tribal Brand Asia (TBA), which organised the trip. TBA will record footage and stories for later use in China.
The itinerary, mainly based around Queenstown/Wanaka, will inform the group about the deer industry's production systems and quality systems from on-farm visits to DINZ chair Mandy Bell's Criffel Station in Otago and Fairlight Station in Northern Southland owned by Doug and Mari Harpur.
Culinary masterclasses from DINZ executive chef Graham Brown will demonstrate, primarily, venison's versatility for restaurant menus, but "will also include velvet in one of the dishes, alongside a deer milk panna cotta."
Alongside continuing to build rapport for the deer industry in China, DINZ "aims to gain a number of Chinese chef brand ambassadors for New Zealand venison."
Deer industry very low user of antibiotics, study shows
Antibiotic use in farm animals is reducing, with the deer industry a very low user of veterinary antibiotics in New Zealand, new analysis shows.
The 2022 Antibiotic Agricultural Sales Analysis, completed last month for the Ministry for Primary Industries (MPI), gives an annual summary of the trends in veterinary and horticultural antibiotics, as part of this country's plan to reduce antimicrobial resistance (AMR). It shows total antibiotic sales quantities fell by 23 percent in 2022, the fifth year of consecutive decreases and 42 percent below that reported in 2017.

The decrease is "good news" for New Zealand Food Safety deputy director-general Vince Arbuckle. Antibiotics are antimicrobial medicines, which Arbuckle says are essential to the health of humans, animals and plants, but using them excessively can lead to the emergence of resistant bacteria.

"With AMR increasing around the world, and few new antibiotics being developed, careful use of the antibiotics we have will help to keep them effective."

The report shows that under one percent of the antibiotic products registered for multi-production species were being used for deer, "but in reality it's much less than that," says DINZ policy and research manager Emil Murphy.

"Deer, goats and horses together is just over one percent, with the horse contribution alone about one percent." The total amount attributed for use in deer was unchanged from 2021 at five kg, compared to 51kg for horses.

DINZ also contributed to the Prime Ministers' Chief Science Advisor's report on AMR that was released last year, Murphy notes.

"While that report identified improvements that could be made in the animal use of antimicrobials, it also observed deer farming is especially successful in using measures such as vaccines to reduce reliance on antibiotics," he says.
Deer farmers to gather at environment award-winning Glen Dene
Richard and Sarah Burdon's 2,989 hectare-high country station, Glen Dene, on the shores of Lake Hawea in Otago will be the venue for a celebration of deer industry environmental excellence on 1 December.
The winners of this year's premier Deer Industry Elworthy Environmental Award and the First Light Environment Award will be welcoming around 80 deer farmers and others interested in learning how they achieved the accolade in the DINZ Environmental Field Day.
The Deer Industry Environment Awards have been going since 2001, notes judging panel member and DINZ producer manager Lindsay Fung.

"The standards of the farms that enter are consistently high, making it difficult to choose the premier Elworthy Award. Nevertheless, we think that when you see Glen Dene and hear what Richard and Sarah have done and are doing, I'm sure you will agree that they are worthy recipients of the award," he says.

DINZ environmental stewardship manager Luka Jansen, will attend for the first time, noted the Environmental Awards continue to grow in significance beyond the deer industry.

"They demonstrate to our communities and customers that deer farming is a business and lifestyle that is a good fit for the land, profitable and socially and environmentally responsible," she says.

Those attending will be part of a five-stop morning tour of the station, which comprises three integrated businesses: a camping ground; a sheep, beef and deer farm; and trophy hunting.

An awards ceremony and BBQ lunch will follow the tour. There is no charge for the tour, which is almost at capacity.

Find out more about the programme and register to attend >>
Velvetters: register in VelTrak and select your current vet clinic
"Follow Veltrak's login instructions to register your password and make sure your current veterinary clinic is selected to make sure tag transactions can take place," velvetters are being reminded now the busy velvetting season is upon the sector.
DINZ has been fielding calls from people experiencing issues logging into VelTrak. This is probably because when the system moved into the cloud in March this year, all users of VelTrak needed to re-register their passwords in the system, explains DINZ quality systems administrator Pam MacLeman.

Re-registering their old password, or changing it, should be easy for velvetters following the 'forgot my password', then reset instructions at the VelTrak login page. This will send out an email with a link to take a user to the 'set password' screen.

As previously, the system uses best practice to avoid account hacks and asks for passwords eight characters or more, using at least one CAPITAL letter, one lower case, one number and also one special character.

"It might be a bit of a pain, but your personal information needs the best protection," she says.

In addition, veterinary clinics selling velvet ID tags to clients are reminded to record them in Veltrak at the point of sale. Also, where farm business have multiple farms using the same clinic, it is important to ensure the correct tags are allocated and provided to the specific farm seeking the tags.

Veltrak users should also ensure they have their current veterinary clinic selected on Veltrak so that the tag transactions for their farm can take place.

"Some buyers are finding after they have bought velvet from farms that the tags are still registered at clinics which has been holding up the velvet status declaration process," she explains.

Any queries, contact DINZ on info@deernz.org or by phone on 04 473 4500.
Sports star joins PGG Wrightson's deer team
Former professional rugby player, deer farmer and "velvet believer," Luke Thompson (below) has just been appointed to PGG Wrightson's upper South Island team.
Retired from playing rugby in Japan, Thompson played initially for the Sanyo Wild Knights in 2004, before moving to the Kintetsu Tigers as a lock, and occasionally flanker. He played for Japan's "Blossoms" international team from 2007-2019, running out onto the field in four Rugby World Cups, including the historic win against South Africa in 2015.
Welcoming him to the PGG Wrightson deer team, national deer manager Tony Cochrane says: "It's really good to have a sports star and deer velvet advocate working for the sector."
Cantabrian Thompson, now a deer farmer himself and a "firm believer in consuming deer velvet," according to Cochrane, steps into a succession role, working alongside Ron "Shroeds" Schroeder in the upper South Island team.
He has a great mentor in Schroeder who won the 2022 Deer Industry Award in recognition of his 50-year contribution to the deer industry.
In other news from PGG Wrightson, the company recently turned on the new purpose-built 6.5 tonne deer velvet freezer in its new Timaru retail store.
This shows PGG Wrightson's "commitment to the industry and its future," says Cochrane.
Sir Tim Wallis farewelled in style in Wanaka
Deer industry pioneer, the late Sir Tim Wallis, was farewelled in style in Wanaka on Saturday 28 October.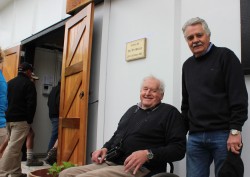 Many deer industry people were among the 2,000+ mourners who thronged the Alpine Helicopters hanger at Wanaka Airport, a fitting venue for the celebration of his very full life. The service, which was livestreamed, included a flypast and hovering helicopters and was covered by news organisations up and down the country. Venison was served at the lunch.
Sir Tim, whose ashes were scattered over Wanaka, was a mentor to so many in the sector.
Among those attending from the deer industry were DINZ chair Mandy Bell, chief executive Innes Moffat and producer manager Lindsay Fung.
"It was an honour to represent DINZ at the memorial, which was a fitting tribute to a person who had a huge impact on his community and on the nation," Moffat commented.
"Members of the family spoke of the adventures they had in their young years and we got a sense of the wicked fun they had had. It left us all feeling like we would have loved to have been part of their adventures."
New DINZ board observer sought for 2024
For those seeking personal and professional growth in governance and leadership, this is an ideal opportunity.
The DINZ board has opened applications for the role of board observer for 2024.
A person with an interest in the deer sector has the opportunity to join the DINZ board in an observer capacity for 14 months. The successful candidate's term will run from 1 January 2024 to the first board meeting of 2025. DINZ will also pay for Institute of Director's governance training, at the beginning of the term, and travel and other reasonable expenses.

Pāmu's Hamish Glendinning fulfilled the role this year and found himself with "an engaging and interactive" experience, he told the NZDFA's branch chairs in October. His front-row seat witnessed at first-hand how the board dealt with the DINZ restructure.

The February 2024 meeting will be his last, when he'll be able to "reflect on how far I've come in the past year," he said. He thoroughly recommends the opportunity and says he's happy to share his experience with those considering applying.

Expressions of interest will be treated in confidence and should be sent to DINZ chief executive Innes Moffat, Innes.moffat@deernz.org, BEFORE Thursday 30 November 2023.

For more information >>
SHORTS
EVENTS
Click on the bold links below to get more information about any of the events.
Back to Industry News