May 19, 2022
Confidence in market diversification holding the ship steady
Confidence in the market diversification programmes for venison is holding farmgate prices steady towards the coming season.
Farmgate prices this week continue to hold between $7.95-$8.05/kg, 47-49 percent higher than the average national published schedule in May 2021 and two to three percent more than the five-year average. The trend line is still tracking similarly to 2018.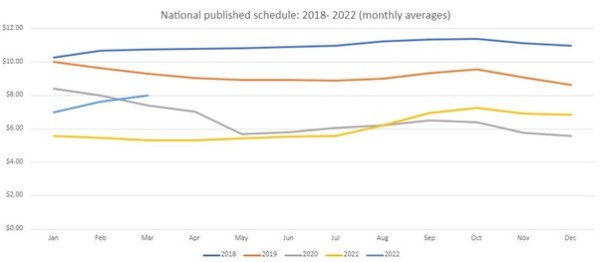 Rob Kidd, marketing manager for venison specialists Duncan NZ, views this as a positive, "given the venison recovery is still in progress," he says. However, Silver Fern Farms' Peter Robinson says there is unlikely to be, "any schedule upside until we enter the chilled season."
Venison companies are still independently predicting a spring average venison schedule of around $9.00/kg as the US and China retail markets recover, along with foodservice in North America and Europe. They continue to balance price pressure on customers, however, with the need for a steady build to sustainable prices for the New Zealand deer sector.
Mountain River Venison's John Sadler thinks all would be fairly optimistic at the moment. "The currency's come to the rescue a bit, but also we have to be really sure that we're developing the market appropriately."
Covid has "really turned the venison industry upside down, which "is a good thing for the long-term," he thinks, especially with the market repositioning underway.
Diversification is already starting to happen. The latest export figures show big growth for venison exports to China – 80 percent in value and 27 percent in volume – between the 2019-2020 and 2021-2022 seasons.
Velvet sector growth, despite Covid challenges
Despite the 2021/22 velvet season being an extremely challenging one for the industry, farmgate returns are looking up on the previous season and are continuing the longer-term upward trend.
Early revenue estimates for the season ending September 2022, show returns will pass NZ$120m, up from just under $100m for the 2020/21 season.
DINZ's manager markets Rhys Griffiths believes a couple of factors are behind the positive results.
"The combination of improving prices and increased production has boosted returns" Griffiths says, "However, farmgate price fluctuations continue to be driven by changing market conditions and currency, albeit not to the same extreme volatility experienced by the sector in earlier years."
Exporting to the growing Chinese market during the global pandemic provided extra challenges for New Zealand buyers and exporters, who worked hard to stop Covid-19 from getting into packhouses and disrupting trade.
Logistical challenges continue in China with "lockdowns still being used by the Chinese government to achieve its current zero-Covid policy," reportedly impacting business confidence, he notes.
"While South Korea – New Zealand velvet's largest export market – has started to open, hopefully by the time the next season begins, China will be well on the road to economic recovery."
New research on velvet and immunity published
A recent AgResearch study on deer velvet's effect on immunity has been summarised in a new eight-page brochure Velvet and Immunity. Rhys Griffiths, says while the brochure highlights a positive impact, claims for health benefits such as enhanced immunity need to be supported by further science to satisfy regulatory requirements.
"Preliminary research carried out in New Zealand shows that deer velvet extracts do have an impact on aspects of the human immune system" he notes.
While acknowledging the initial research findings look promising, Griffiths emphasises that caution is needed due to the small size of the study and that "significant investment is required, and further research needed before any type of claim might be made."
Copies of the New Zealand Deer Velvet and DINZ brochure Velvet and Immunity can be requested by emailing Rhys Griffiths at rhys.griffiths@deernz.org.
As the biggest market for NZ deer velvet, South Korean customers can look forward to reading about the developments in a Korean language version of Velvet and Immunity available in Korea.
Deer 101 on wintering deer for MPI and council officials
Officials from MPI, Otago Regional Council and Environment Southland have been given a first-hand look at preparations and wintering methods for deer.
Hosted by DINZ and NZDFA Southland and Otago branches, the visitors came from a variety of environment and welfare compliance and planning roles.
It was an ideal opportunity for officials to better understand any "grey areas" around wintering deer, said NZDFA chair John Somerville, who facilitated the Southland leg of the two-day event on 27 April. At Bruce Allan's property, they saw the Redpath shed used to over-winter velvetting stags, while at Pete and Sharon McIntyre's farm they looked into compliance issues with winter crops and identifying risk areas such as potentially boggy depressions, or 'swales'.
In Otago, on 29 April, officials viewed two contrasting properties. At Richard and Sarah Currie's Black Forest Park at Outram, Richard explained that the larger deer are prioritised for the winter crops (fodder beet and brassicas), minimising soil damage on the farm during wet winters.
Sean and Cassie Becker hosted the group at Andrews Farm, Kokonga in North Otago. The area is dry with cold winters. Sean Becker explained that deer needed to exhibit their natural behaviour of wallowing, but they were careful to ensure wallows in the wetter areas weren't connected to waterways. Mud wasn't an issue in winter because "the ground is usually frozen".
Out on the farm the group did an exercise making a grazing plan for use of a fodder beet crop, taking critical source areas into account and providing contingencies for welfare in case of bad weather.
P2P post-programme update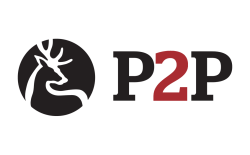 Work is going well on the final Passion2Profit (P2P) Primary Growth Partnership report and post-programme transition of activities.
Farmers and rural professionals recently contributed their time and thoughts to DINZ surveys on what the P2P programme has meant for them and the areas that are top of mind now and for the future.
DINZ manager farm performance, Phil McKenzie extends, "A big thank you to them for their contribution."
The analysis of the results is underway – and going well – for the final report, he says, along with a new application for funding from Sustainable Farming Food and Fibre Futures. DINZ is also looking to apply for additional funding, which has just become available, for Integrated Farm Planning.
"Regardless of the outcome of these applications, DINZ will be providing ongoing farm performance support programmes for farmers. We'll be looking for feedback and ideas on these when we meet up with deer farmers on our roadshows next month," says McKenzie.
"As always our approach is to build on the ideas from farmers, and the more feedback we can get the better.
P2P is jointly funded by the deer industry and the Ministry for Primary Industries.
Fixing emissions factors with DeerPRO
The value of DeerPRO's national database of processed deer continues to grow beyond just the control of Johne's Disease. It is a huge resource, today, with information on all five million farmed deer killed since 2006. In a major step four years ago, NAIT agreed to add to it the age of these animals at processing. To make sure the extra information was as robust as possible, a series of assessment and rules were developed as checks and balances.
A perfect opportunity arose recently to put it all to work, DeerPRO manager Solis Norton reports.
"MPI provides estimated greenhouse gas emissions factors for deer and other types of livestock. These factors will play a role in determining industry emissions and the charges that deer farmers will pay for the emissions of their animals," he explains.
The factors are heavily influenced by liveweight. MPI's estimate for hinds was 143kg and for stags 172kg.
DINZ used DeerPRO real data to compare with MPI's modelling figures. Liveweights estimated for almost 280,000 hinds killed in the last two seasons show the vast majority three years or older were estimated at 105-110kg, and younger than this were 95-100kg – at least 25 percent lower than MPI's figure.
Liveweights for almost 270,000 animals showed MPI were much closer with their stag weights. Most stags three years or older were 150-200kg, and younger ones were typically 100-130kg.
DINZ will use this in further consultation with MPI.
The DeerPRO programme is a good example of how huge amounts of data can be crunched into these facts. The facts that will support farmers and our industry on our path forward."
NAIT accreditation opens to applicants
The NAIT accreditation programme for service providers such as stock agents, sale yards and processors has been relaunched.
The voluntary programme aims to improve data accuracy in the National Animal Identification and Tracing (NAIT) information system and raise the standard of NAIT account service providers.
To gain NAIT accreditation, applicants will have to undergo a screening process that includes education modules and audit assessments.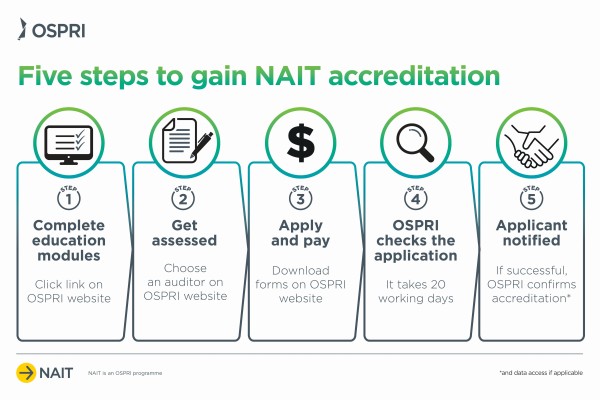 The relaunch is welcome news for deer farmers who rely on service providers to manage their NAIT accounts, according to Emil Murphy, DINZ's science and policy manager.
"We're really excited about this because it helps to establish a fantastic foundation for the traceability system, making sure all the parts are doing what they need to. There's no point requiring farmers to do their job if we don't make sure that accredited entities are doing theirs," he says.
The programme relaunch follows a review of the Mycoplasma bovis outbreak which highlighted issues with NAIT livestock data.
Organisations that are NAIT accredited become accountable through increased monitoring, performance checks and regular audits, which should help build farmers' confidence in those who record their livestock information and movements in NAIT.
OSPRI is now accepting applications from current accredited organisations and interested parties. A list of accredited service providers and information on how to become accredited can be found on OSPRI's website here.
50 years of deer science – Research into finding lungworm early looking promising
AgResearch scientists are working on a new rapid diagnostic tool to help identify deer infected with lungworm, Dictyocaulis eckerti, one of the most serious parasitic diseases affecting young, farmed deer today. This project is being undertaken by scientists led by Arvind Subbaraj under the co-innovation framework between Deer Industry New Zealand (DINZ) and AgResearch.
Emil Murphy is hopeful that the research to detect lungworm via a saliva sample will eventually lead to a new portable pen-side testing tool that can be used on the farm.
"While a soft cough and drop in growth rates can indicate a deer has lungworm, an accurate diagnosis is not always clear. A more certain and reliable method to detect infection would not only identify which animals need treatment with anthelmintics, but also save money through the judicious use of drenches, plus help delay the onset of parasitic resistance," he notes.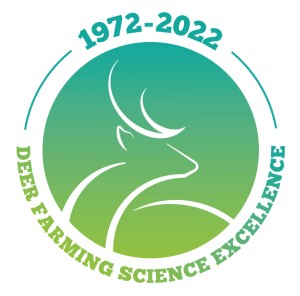 Arvind Subbaraj's team of scientists is investigating techniques that analyse deer saliva to detect the unique metabolic signatures of active lungworm. So far, they have identified five potential signatures from saliva, but it's still not known what chemicals those signatures represent. While this progress is hugely encouraging, trials and further research to identify the chemicals or biomarkers are ongoing.
If the scientists can identify the specific biomarkers, it will provide an opportunity to develop a hand-held biosensor for use in the field or a pen-side, real time diagnostic tool that will be a win-win for New Zealand's deer farmers.
This is just one of the latest projects carried out by scientists on behalf of the deer industry, which is celebrating 50 years of deer science this year.
New recipient of Korean OMD scholarship
Trainee Oriental Medicine Doctor (OMD), Younghyun Seol received a 2022 OMD Scholarship at Dongguk University from NZ Ambassador His Excellency Philip Turner in Korea last week.
The DINZ OMD scholarship programme, run in conjunction with three leading OMD universities in Korea, presents an opportunity to engage with the Korean OMD community, to overcome historical biases and the perception that Russian velvet is better, explains DINZ market manager Rhys Griffiths.
He reports the vice-dean of the university Professor Seung Ug Hong, who has visited New Zealand as a tourist, and head of the OMD department Professor Ho Jun Kim both felt the perception of New Zealand velvet has improved greatly in the OMD sector.
"In the short term, however, they don't think that the perception of Russian deer velvet is changing due to the situation in Ukraine, but there might be some impact if the situation is prolonged."
2022 Big Deer Tour
DINZ hosted the 2022 Big Deer Tour from 19-22 April, when eight university students headed off for a tour of the industry.
Megan Ross, a fourth-year food technology student at Massey University, said she had been given: "The best introduction into career opportunities within the deer industry for a future food process engineer."
The students had "an incredible time," she wrote in her . The in-depth dive into the industry included a look at velvet marketing and processing including a visit to Provelco Velvet Processors and a venison cooking class with Graham Brown, which was "an unreal experience learning from the best of the best," she said. This was followed by farm visits in South Canterbury and Central Otago, a look at leather co-products and deer science, including genetics, at AgResearch Invermay.
Deer milking at Lincoln Hills farm, in particular, piqued Ross' interest: "Firstly, because I hadn't been so close to live deer before and, secondly, it being a very new process and in the first stages of new product development."
This was the fifth group of university students who have been hosted on a Big Deer Tour as part of the Passion2Profit (P2P) programme, funded by DINZ and MPI.
DINZ extends its thanks for the contributions and hospitality from Provelco, Deer Milking Ltd, Melior Venison, Clayton Station, the South Canterbury/North Otago NZDFA branch, Latitude Trading Co, AbacusBio, Kinvara Farm, Duncan Venison NZ, AgResearch Invermay and Silver Fern Farms.
Wanted: additional director needed for OSPRI
OSPRI is looking for another director to broaden and deepen the Board's skills and experience.

As a primary attribute, they are looking for governance experience, with time at chair or committee chair level. Plus candidates will have:
Demonstrated understanding of and connection to key primary industry sectors, throughout the value chain
Relevant and up-to-date knowledge of the regulatory environment related to biosecurity
Strategic understanding and leadership relevant to organisation change, people and performance management and culture change
Technology and innovation awareness, relevant to biosecurity and information systems
Understanding of te ao Māori and Māori organisations relevant to animal biosecurity operations.
The appointment will take effect from the Annual Meeting in November 2022, for an initial term of three years.

The OSPRI Shareholders' Council is responsible for recommending Board appointees to shareholders.

Further information is available from the Stakeholders' Council Chair – Dr James Buwalda, james@innovationstrategy.co.nz, phone 021-678 318.


EVENTS
DINZ planning is well underway for a number of events taking place over the next few months. It is really important that you register for any you intend to attend, for catering purposes.
NZDFA Branch Chairs and AGM 24/25 May 2022, Wellington
After months of disruption, New Zealand Deer Farmers Association (NZDFA) Branch Chairs are at last meeting in Wellington on Tuesday 24 May at the Brentwood Hotel.
Branch Chairs will be able to reconnect with each other and the NZDFA Executive committee, Selections and Appointment Panel (SAP) Members, DINZ Executives and Board Directors. They can also bring along a New Face – someone who has not previously been involved in NZDFA activities or events. Six positions are available and travel/accommodation costs will be shared with the branch.
Several long-serving NZDFA members will be recognised at the Branch Chairs dinner.
The following day, Wednesday 25 May, the NZDFA AGM will start at 8.30 am. DINZ Board candidates will have the opportunity to address the meeting and the new SAP members will be announced. The agenda and video link will be provided closer to the date.
Contact Rebecca Norling Rebecca.norling@deernz.org if you require assistance or information on travel and accommodation.
Registration NOW OPEN for DINZ Road Trip events
We couldn't bring delegates to Wellington, so DINZ is bringing the 2022 Deer Industry Conference to the regions. Come and meet the DINZ Board, Executive and marketing company representatives in June at one of several half-day regional DINZ Road Trip Events we're holding, instead of the usual national deer conference.
Hear about the latest DINZ activity and industry prospects and watch DINZ executive chef Graham Brown demonstrate some of his latest venison dishes. He is also going to prepare a light and delicious buffet meal, featuring venison.
Presentations include: Venison Markets; Velvet Markets; Environment and Know Your Number; Science Update; VelTrak 2023; and a Q&A with the DINZ Board.
All of the meetings will be held from 3.00-7.00pm on the following dates: Doors open at 2:30pm.
Wednesday 1 June 2022– Palmerston North Golf Club
Thursday 2 June 2022 – Bowls, Taupō
Wednesday 8 June 2022– The Hideaway 101, Winton
Thursday 9 June 2022 – Wanaka Golf Club, Wanaka
Wednesday 15 June 2022 – Geraldine, South Canterbury (location TBC)
Thursday 16 June 2022 – Oxford, North Canterbury (location TBC)
Accommodation recommendations are available for each of the locations. Check out the for the latest information and news about the roadshow.
Planning winter grazing?
Winter grazing planning workshops are coming up in Otago and Canterbury, funded by the P2P programme and supported by DFA.
Thursday 26 May 2022, 1.00-3.00pm, Clutha Vets, 2 Wilson Road, Balclutha, Otago
Thursday 9 June, 12.45pm-3.30pm, Bowling Club Pleasant Point, South Canterbury
Friday 10 June 12.45pm-3.30pm Green Man Café, Peel Forest, South Canterbury
Oamaru, date and venue to be confirmed
Please REGISTER for the Balclutha workshop here, and for the South Canterbury events here.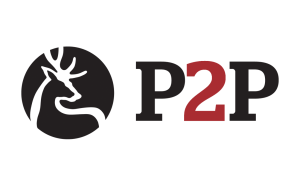 Learn to use the GHG calculator to 'Know Your Number'
By the end of 2022, all New Zealand farms should know their "greenhouse gas emissions numbers". The B+LNZ Greenhouse Gas Calculator is an easy-to-use free tool to help measure and report a property's emissions and sequestration.
The two-hour DINZ workshop, part of the P2P programme, covers:
The background to the calculator and why it is important to 'know your numbers'
A demonstration of what the calculation involves
Time to complete a farm's calculation
Discussion on the various numbers generated
Discussion on how to manage emissions on farm
By the end of this workshop, attendees will "know their numbers" and meet the 2022 requirement.
The 2022 GHG workshop dates have been set as below (venues and dates to be confirmed):
Monday 30 May – Taihape, Central North Island
Friday 17 June – Alexandra, Central Otago
Wednesday 22 June – Lumsden, Southland
Thursday 23 June – Tapanui, Otago
Monday 27 June – Waimate, South Canterbury
Tuesday 28 June – Fairlie, South Canterbury
Wednesday 29 June – Methven , Canterbury
Tuesday 5 July – Oamaru, North Otago
North Island GHG workshops are to be confirmed soon! REGISTER here.
Back to Industry News