Oct 11, 2022
Noticeboard
Thank you to Ian Walker from the Hawkes Bay Branch
The following was read out at the recent DINZ Road Show on by Ru Gaddum on behalf of branch chair Evan Potter.
Well, I think Innes and Mandy have pretty much covered it all. But on behalf of the Branch we thank you for contributing to Hawke's Bays legacy of leadership within the Deer Industry.
Hawkes Bay has always contributed strongly to our industry, from the DINZ board through the NZ Deer Farmers Association, SAP and contribution to scientific and practical deer farming advances, all of which you have also
been part of.
We acknowledge that your tenure as Chair of DINZ was a tough, turbulent time for deer farmers with ongoing venison struggles and much regulation coming at us from Wellington.
This coupled with disruption from covid at almost every level and a TB outbreak in Northern Hawke's Bay made for a challenging time at the helm. I feel Mandy will have plenty of the same and no less of an expectation at grass roots to go in and bat for us amongst the bureaucrats, hopefully she will be able to save us from HWEN and death by a thousand taxes and regulations!
So, thank you for the effort you invested in our industry.
Obituaries
Fallow deer pioneer remembered
Ernie Hazlehurst died at his home in Matamata on 21 July, aged 80. Geoff Asher recalls this deer industry identity.
I first met Ernie and Leonie in the early 1980s when starting my science career at Ruakura Agricultural Centre.
My work was focused on farmed fallow deer and I recall first bumping into Ernie at a fallow farmers' annual meeting.
He showed a strong interest in the scientific work, and he and Leonie offered up their herd for research quite early on. Probably the most memorable work was the earliest-ever studies on artificial insemination of fallow. The Hazelhursts' herd, and that another Matamata fallow farmer, Terry Bellamy, were the first commercial herds to be AI'ed, around 1987. This was repeated over several subsequent years.
In about 1990, Ernie and Leonie took on responsibility for establishing a fallow deer sire-referencing project on their farm, in order for the emerging industry to get a handle on genetic progress. This was an enormous feat, and a world first for the species. Ernie really put his heart and soul into it.
Ernie and Leonie also became great friends, and I often brought my oldest son Jeremy (then around 6–7 years old) out to their farm to go spotlighting possums.
They were very influential friends during my time at Ruakura and Ernie was a mentor with sage advice for me as I struggled through early career issues.
Unfortunately, as I was transferred down to Invermay near Dunedin, in 1993, I gradually lost contact with a lot of people I'd met up north. We had the occasional phone catch-up, but Ernie and Leonie retired from mainstream farming and spent a lot of time overseas. We kind of drifted apart for a while, but I never forgot our friendship.
Ernie was one of the true good guys we get to occasionally meet in our journey through life.
Phil Irwin - Hawkes Bay Branch Life Member
6th September 1941 – 9th September 2022
It is with great sadness that the Hawke's Bay Deer Farmers Association has recently farewelled Philip Irwin. A stalwart of our branch and the industry, remembered for his passion and enthusiasm of everything deer.
His mentoring and leadership has ensured our branch has remained strong now and for the future, while his work tirelessly behind the scenes epitomised his character.
Being one of only three ever awarded Life Membership to the HBDFA and the recipient of the 2013 Matuschka Award, are indicators of the regard in which Philip was held both in and outside of Hawke's Bay. Philip's contributions to velvet production, marketing, grading knowledge and IT skills meant his reach was wide and influential.
So farewell Philip, you can rest easy in the knowledge your contribution and presence has enriched many of us within the industry.
- Evan Potter, Hawke's Bay branch chair
What is the value of training your staff?
There are a few good reasons to train your team and to get in touch with Primary ITO:
Create a positive brand for your business, especially in a tight labour market. Why not set yourself apart from your competitors?

A skilled team means more time for you to focus on the strategic priorities of your business (and to have more time for yourself and your family).

The team are able to instantly apply their learning to the job and produce quality work – helping to grow a successful, sustainable business.

Build trust between yourself and your staff.

The skills your staff learn are relevant to your business as all qualifications are developed for industry, by industry.

Your staff are working at a recognised industry standard.

Literacy and numeracy support is available for those who need this support.


There's great news if you choose to enrol apprentices as the Government has extended MSD's Apprenticeship Boost which offers financial support until the end of 2023.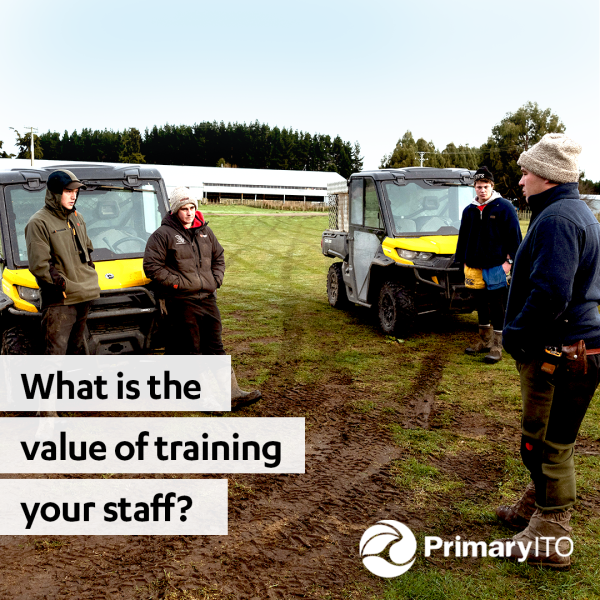 Want to learn more about what training can do for your business? Check out what some of our employers had to say about the value of training here.
Reminder: Branch Financial Support
The NZDFA is aware that some of the smaller branches have limited funds and are therefore unable or reluctant to attend events such as the Branch Chairs meeting or organise/run events.
The NZDFA has built up fund reserves over the years and is in a position to offer some assistance to branches that might otherwise struggle to send their Chairs or New Faces to the Branch Chairs meetings. Assistance could also be provided to branches that wished to run other events such as a workshop or field day on topics of interest to deer farmers.
And while this funding assistance will have limited scope, the NZDFA could also assist applicants to apply to other funding sources such as the Ian Spiers Memorial Trust for leadership development opportunities.
Interested applicants (NZDFA Branches or individual farmers) are requested to fill out the simple, quick application form on the DINZ website (click here).
It's not just Skinny!
Recently the DINZ office was informed that Stephen Adams (Canterbury) was exiting deer farming.
Although this is not the sort of news that we like, it is heartening to know that Tom Cruse is still going strong in Southland (perhaps in between Top Gun gigs).
We'd be interested to know if there are other deer farmers who have famous namesakes - please drop us an email! Note deer farmers who are actual ex-All Blacks are excluded!
Illegal hunting
The Game Animal Council (with support from New Zealand Professional Hunting Guides Association, Association of Game Estates, Federated Farmers and Deer Industry New Zealand) is seeking a meeting to be held with the Police around rural reporting, enforcement and illegal hunting.
We would like to hear any questions you may have around illegal hunting so these can be forwarded for consideration at the meeting. Please get in touch with Producer Manager Lindsay Fung (lindsay.fung@deernz.org) with any questions.
Production calendar feature: Antler biology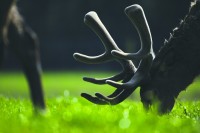 The growing tip of the antler is composed of various types of cells and is covered by a layer of tissue. The lower (non-growing) regions of the growing antler are composed of further types of cells again, as shown in the following diagram.
Each year, antlers drop off and fully regenerate in a growth cycles.
Antlers do not grow directly from deer skulls. Instead, they emanate from the top of permanent bumps on the head called pedicles.
Read more on antler biology at deernz.org/deer-hub/velvet-and-antlers/antler-biology >>
Reminder: closure of ANZ bank account
The NZDFA now banks with BNZ and have kept the ANZ account open for a transition period.
The ANZ account will close on 31 October 2022 so please ensure your records are updated to BNZ (02-0506-0268055-000).
A number of subscriptions have come into the ANZ account, as well as NVSB fees (which should be paid to DINZ), and these will receive a reminder with next year's subscription invoice to update NZDFA details to BNZ (02-0506-0268055-000).
Classifieds
Vet student looking for placement on deer farm
Vet student Poppy Gunson is looking to complete her deer farm placement as part of her studies at Massey University. If you're able to help her out, please get in touch on poppygunson@gmail.com or 021 438 804.
Joke of the Month
Scientists recently placed a 10-piece set of matching Tupperware in a sealed chamber.
When they opened it a month later, the chamber had 24 lids that did not match any of the 6 remaining containers.
Events
Wetlands Field Day
Friday 21 October, Albury, South Canterbury >>
'Know Your Number' GHG Workshop - Various Locations
12 Oct through 23 November, check here for dates and locations >>
Hawkes Bay 2022 Velvet and Hard Antler Competition
Thursday 17 November 2022, details to come >>
SCNO 2022 Velvet & Hard Antler Competition
Friday 25 November, details to come >>
North Island Velvet Competition
Saturday 26 November 2022 at Te Awamutu Race course, Viewing/Dinner 5pm onwards, Entries $35.00 / Dinner tickets $70.00, contact Craig Hocken 0274 576 388 or chocken@inspire.net.nz >>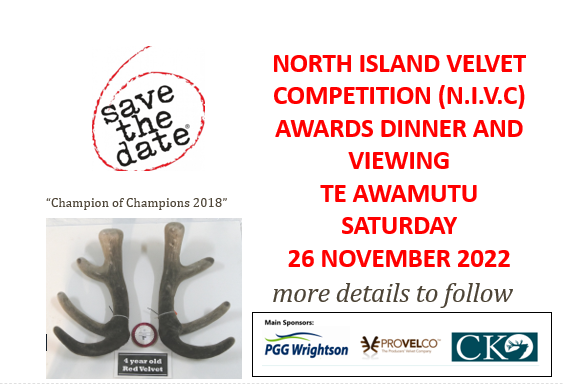 National Velvet and Hard Antler Competition
14-16 December, Ascot Park Hotel Invercargill, awards dinner Friday 16 >>
2023 Rising Stars
Will be held at Te Awamutu on February 25th 2023. All enquiries to Helen Clarke, at campbell.clarke@xtra.co.nz >>
Back to Industry News