Sep 8, 2022
People travelled far and wide to join the 90th birthday celebrations of one of the first founding fathers of the NZ Deer Farmers Association in 1975. Industry legend, and alongside the legendary velvet champion Rakaia stags "Big Dad", a true icon of the velvet antler industry, Bob Swann.
The Geraldine function venue Stonebridge had been decorated with many things connected with Bob's and Big Dad's antler breeding legacy collections including deer art, historical photos, giant antlers, buttons, photos of Bob's adventures and memories. In keeping the superb menu featured venison pies and food crafted with what a hunter would take out on the hills and alongside selected favourite songs, created a great buzz of conversation, meeting of old friends and colleagues and remembrances that spanned 50 years plus and filled much of the afternoon.
There were plenty of messages also from some who couldn't attend from those who were part of that early history. This from great friend Murray Matuschka:
When you talk about Bob Swann you also have to talk about Francis. Barbara and I met them at a conference in Te Anau way back in 1978. It's funny how one is drawn to some people. And we were to Bob and Francie. That instant connection that has lasted 44 years.
Bob Swann must now be the enduring and much respected father of our deer industry. As he should be! He is an icon to all people who know him personally and all those that don't.
I could talk for an hour on this man and Barb and I are gutted that we can't be with you. But as you know we are beside you now as you celebrate this great milestone. Congratulations Bob. You are the brother I never had.

Justin Stevens (Chair Executive Committee) sent congratulations from the NZDFA:
It is with great pleasure that I am able on behalf of the New Zealand Deer Farmers Association, to congratulate you on achieving such a fantastic milestone of 90 years young. I know you will be surrounded my many members of your family and friends in Fairlie on Saturday 20th August 2022 and I hope you enjoy the celebrations, whilst finding time to reflect on your past achievements.
The New Zealand Deer Farmers Association owes yourself and many other forward thinking deer farmers a great deal of gratitude for the wonderful industry that we are now able to be part of. I read with great envy about the exciting times that you must have all had in the early years of a new industry, with the highs and the lows and everything in between. The challenges that you had to overcome and the fact that you all faced them head on and managed to keep going no matter what.
Happy Birthday Bob and I hope to see you at the New Zealand Deer Farmers Association 50th AGM Anniversary in 3 years.

Tony Pearse had been asked by Peter Swann to also reflect and said:
"Like so many people in the deer industry the contact, influence and enjoyment of Bob Swann's depth of knowledge of deer and his role and vision for the future especially around velvet antler and its potential has been a cornerstone of the industry. That lead to the award of a very early life member of the NZDFA, and you have remained integral to the directions and history of the NZDFA over your entire period of industry commitment
Your advice, commentary and passion has never been mixed with additional flowery words and wandering explanations like many of us coming from Invermay or all the various NZDFA branches and industry groups.
Bob must surely hold some sort of record for deer industry events attended, and in his own classic style for the sound but cryptic commentary on the interaction of research and its application and the basics of understanding of how deer behave and how practical management is really good farming common sense.
On an annual basis since the inception of the Matuschka Award, Bob and Murray have been the two chief judges and I joined them in in early 2000's.
The New Zealand Deer Farmers' Association "Matuschka Award" recognises the grass roots farmer and unsung contributor to local area activities, functions and core spirit of deer farming.
As recognition of the unsung heroes at Branch level, it is appropriate that the award itself be presented to the winner at a special mid-winter function in the recipient's Branch.
Nominations are invited for a farmer or farming entity who has made a significant ongoing or lifetime of contribution to deer farming and the NZDFA in particular at Branch and regional level in any aspect for deer farming.
That annual discussion pre-conference with Murray and Bob (as you will understand with those two) was always a highlight where short concise commentary, strong opinion and a considered precise outcome would be delivered and I know that all of the winners since 1986 and their branches so enjoyed the award and subsequent branch celebration .
For the past 2 years Covid has blown away all of that linkage to conferences, and the associated events as well as the chance to gather as deer farmers and an industry.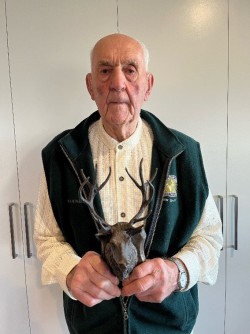 It's really fitting that the community of Farlie and South Canterbury, and many from further away have gathered here today in the presence of the Swann family and a true industry pioneer who remains a figure head, a source of sound practical advice and laconic commentary related to industry events and deer farming.
In recognising that and your wide and enduring role, the NZDFA's Executive Committee have endorsed their congratulations on this 90th birthday milestone, and alongside Murray and myself wish to thank you for your 50 plus years of engagement in this industry.
To mark that, the NZDFA thrilled to announce that you have been endorsed by the NZDFA Executive Committee, Murray and myself as the winner of a 2022 special Matuschka Award. In recognition of your lifetime of contribution to deer farmers, the NZDFA and the wider industry.
Quite simply if you hadn't been a judge since the award started 28 years ago you would have already had it already earned it and you are in every sense the epitome of what the Matuschka Award was established for".
In response Bob chastised us all, saying it wasn't necessary and he wasn't all that keen on such an ambush. He then lead a sharing of his adventurers: the Crown Terrace above Arrowtown and the features of a packed life and the joy of family, enjoyment and reward in playing rugby, meeting Francis and her role and support, Fairlie and the community, the Rakaia Red deer herd, the passion of hunting and the farming of deer and his lifetime of association with the industry since its earliest beginnings, and the magic of quality deer and their antlers and a tribute to Big Dad.
It was a wonderful afternoon.
Back to Industry News