Sep 22, 2022
Luxury deer nappa leather bags from Wellington bag designer Yu Mei will be launched at New York's Bergdorf Goodman luxury store this November, following great feedback from international retailers.
"They just said the unique selling proposition, the story of the deer and the whole hand-feel will really stand out in the international marketplace," reports Yu Mei founder Jessie Wong, who has just returned from the recent Paris Markets luxury goods fair. She is delighted with the response from international retailers at the show.
Wong started Yu Mei in 2015, having graduated from Dunedin Fashion School, where she was a big fan of New Zealand deer leather from the start. She learned to create handbags and other items with it from the scraps of leather sent down to the fashion students by NZ Light Leathers (NZLL) of Timaru.
"It was like the material and I spoke the same language," she says, describing the leather as, "beautifully, buttery soft, with all the qualities of a soft lambskin but with the strength of a cow-hide."
Wong feels very connected to this part of New Zealand. She advocates the virtues of the deer industry to her customers and this particular by-product, "from its low ecological impact compared to other types of agriculture," she says.
"I feel like deer is a craft and its farmers are really passionate about what they do and are always interested in the whole process."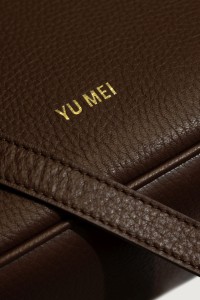 She was buying the leathers from NZLL until 2019 and its former head Barry Parsons continues to help Wong source high-quality wet skins from a number of New Zealand tanneries. These are then sent to Hong Kong for processing into leather and manufacturing into the wide range of bags that retail in New Zealand between $170 and $1,459.
Yu Mei (Wong's middle name) is certified to Toitū Net Zero Carbon and is waiting for B-Corp accreditation later this year.
Wong's bags are now available in 46 retailers across Australia and New Zealand.
Committed to the circular economy, the designer has also operated a Buy Back scheme for the past three or four years for its products. Users can send pre-loved bags in good condition back to be reconditioned, either for return to them or to credit against a new bag, before the old bags are sold on and rehomed.
"We love New Zealand deer. It's a big part of our 'land to luxury' story and our identity as a brand and we'll be championing it internationally," says Wong.
Back to Industry News