Apr 8, 2022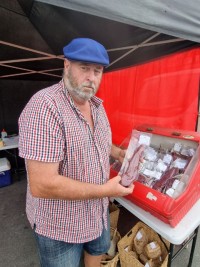 You'll always know where Canterbury deer farmer John Douglas is every Friday night. He'll be at Lovat Downs in the Greta Valley, preparing for his weekly Lovat Venison farm-raised tender venison stall at the Saturday market in Lyttelton.
He's been face to face with New Zealand consumers for around 20 years at the market – bar the 2010/2011 earthquakes – and spent 4.5 years afterwards at the Wellington market as well, plus had a regular stand at the Waipara Wine & Food Festival until 2019.
So he knows New Zealanders are still constantly surprised to find farm-raised venison's non-gamey taste and its tenderness, compared to the wild venison. They're also curious about the industry, especially deer milk which had been on TV recently.
Promoting farm-raised venison has been tough he has found and, while John has received banners from DINZ in the past, he says he has had to "push his own barrow" over the past two decades as well. He believes there is much more that could be done to increase awareness and he welcomes efforts by DINZ to promote venison on the local market.
"It's an underrated meat," he says. Often it's down to Kiwis experience with wild meat and they think it will be tough and gamey. Once they try one of his samples, however, they're convinced. "People say venison's hard to find [in the stores], but it's one of the top products around."
Although he has an online sales portal, most of his business is going well through the stall – which he sets up from 11am to 1pm every Saturday, come rain or shine – or to a number of regular customers, including restaurants. He has cut back on serving the latter, though, as the going has been tough, especially through Covid-19, the earthquakes and stiff competition.
As he told Radio New Zealand in an interview last December, "It's the passion," that's keeping him in the industry that he first entered in 1996, when he bought the 140 ha Lovat Downs– "not knowing anything about deer". He is now passionate about venison, passing up suggestions to get back into velvetting full-time.
He juggles his retail activity with running Lovat Downs where the current to do list includes a big fencing job through a tricky gully on-farm, alongside running 130 weaners and a small velvetting herd of around 100, having retained his velvetting licence for the purpose. He has also just sold about three-quarters of his bulls.
Mountain River Venison process his deer and "do a really good job" returning the cartoned meat ready for sale. Some of the trim and shoulder go off to a local butcher for turning into biersticks and salami, two of the most popular lines on the weekly stand, alongside fresh Denver leg and a range of other cuts, and venison burgers cooked freshly by John, and occasional helpers, on his six-ring barbecue.
Back to Industry News